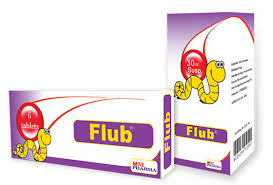 FLUB  tablets I susppensron
Broad-spectrum anthelmintic
Composition:
– Each tablet contains 100 mg flubendazole.
– Each 1 rnl oral suspension contains 20 mg flubendazole.
– Flubendazole is 5–(P·fluorobenzoyl)-2-Benzimidazole carbamate. its molecular weight is 313.29
Properties:
– Flubendazole interferes with the cellular tubulin formation in the worms leading to a disturbance in the glucose uptake & the normal digestive functions of the worm, that leads to an autolytic process.
– Flub' is poorly absorbed from the alimentary tract, its bioavailability is poor due to both high first-pass metabolism & the very low solubility of the drug. So Flub is safe for the human body.
Indications:
Flub is indicated for treatment of the following intestinal infestations:
– Infestation of Oxyuriosis, Ascaridiasls.Trichuriasls, Ankylostomiasis and Enterobius vermicularis .
Contraindications:
– If there is a history of hypersensitivity to the drug.
– Adverse effects: Very minor adverse effects to Flub therapy have been reported. Transient abdominal pain & diarrhea rarely occur especially in cases of massive infestations. Also very rare cases of hypersensitivity reactions have been reported such as rash, urticaria & angio-oedema.
Precautions:
There is no sufficient data about the use & safety of flubendazole in the following populations
– Pregnant & lactating females and impaired kidney function.
– Infant < 1 year.
– Person has sensitivity to flubendazole.
So, caution should be exercised with flubendazole therapy in these populations.
Dosage:
– The following dosage is applied for both adults as well as children
For Enterabiasis:1 tablet or 1-teaspoon suspension given as a single dose.
It is recommended to repeat the dose after 2 & 4 weeks to decrease the recurrence rate. For Ascariasis, Trichuriasis, Ancylostomiasis & mixed infestation:
1 tablet or 1- teaspoon suspension given twice daily for 3 consecutive days.
– No special procedures, such as diet or laxatives are required.
Package:
– Box of 6 tablets in one strip.
– Glass Bottle of 30 ml suspension.
Storage:
– Tablet: store at a temperature not exceeding 30°C
– Suspension: Store at a temperature not exceeding 30°C
Keep out of the reach of children
To be used under medical supervision
Produced by:
UNI PHARMA
AL OBOUR CITY, CAIRO – EGYPT