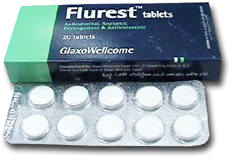 Flurest"  Tablets
COMPOSITION :
Each tablet contains
Paracetamol                                               400 mg
Pseudoephedrine HCL                           60 mg
Chlorpheniramine maleate                  3 mg
Caffeine anhydrous                                 32 mg
PROPERTIES :
Flurest is a well-balanced combination of:
Paracetamol: Antipyretic and analgesic.
Pseudoephedrine HcI: A potent vasoconstrictor equal to ephedrine with minimal side effects.
Chlorpheniramine maleate: Antihistaminic of short duration of action with mild sedative effect.
Caffeine anhydrous: CNS and Respiratory stimulant.
INDICATIONS :
Flurest is an effective analgesic, decongestant, antihistaminic and anticatarrhal agent. When used early flurest can give relief or even abort conditions associated with nasal congestion and hypersecretion such as:
– Influenza
-Cold attacks
– Spring catarrh and nasal sensitivity
– Other nasal congestive inflammatory conditions
CONTRAINDICATIONS :
Though the dose of pseudoephedrine is comparatively small, Flurest is
contraindicated in patients with narrow-angle glaucoma or urinary retention, and in patients receiving monoamine oxidase (MAO) inhibitor therapy or within fourteen (14) days of stopping such treatment.
It is also contraindicated in patients with severe hypertension, or severe coronary artery disease, and in those who have shown hypersensitivity or idiosyncrasy to its components, to adrenergic agents, or to other drugs of similar chemical structures. Manifestations of patient idiosyncrasy to adrenergic agents include:
insomnia, dizziness, weakness, tremors, or arrhythmias.
PRECAUT-IONS-AND WARNINGS  :
Sympathomimetic amines should be used judiciously and sparingly in
patients with hypertension, diabetes mellitus, ischaemic heart disease,
increased intraocular pressure, hyperthyroidism, renal impairment, or
orostatic.hvnenmnhx
 DOSAGE :
Above 12 years: 3-4 tablets daily
Not to be used for children below 6 years
SIDE EFFECTS :
Side effects mimicking the results of stimulating the sympathetic nervous system may occur. Difficulty in micturition has been reported with this type of therapy. Headache, drowsiness and dizziness have also been reported.
EFFECTS ON THE ABILITY TO DRIVE AND OPERATE MACHINERY :
Caution should be experienced since slight drowsiness may occur with some patients.
INTERACTIONS :
Possible diminution of effects of antihypertensive drugs.
OVERDOSAGE :
For paracetamol overdosage specific therapy with an antidote such as
N-acetylcysteine or methionine may be necessary.
PHARMACEUTICAL PRECAUTIONS :
Protect from light at a temperature below 25°C.
 PACK :
Boxes of 20 tablets.
MANUFACTURED BY :
Glaxosmithkline S.A.E  EL salam city cairo A.R.E