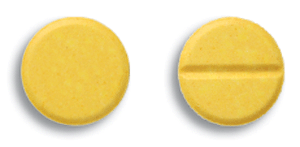 Folic Acid Mepaco ®
Tablets
Composition:
Each tablet contains:
Folic Acid     500 ~g
Properties:
Folic Acid is a member of the vitamin B group which is essential for DNA synthesis and some amino-acids conversions and metabolism, it is rapidly absorbed from proximal part of small intestine, distributed to the body tissues, stored in the liver and actively concentrated in the cerebrospinal fluid.
Folic acid is an essential factor for nucleoprotein synthesis and for the
processes of erythropoisis as it stimulates the production of RBCs.
The daily requirements of folic acid ranges from 150 to 200 JJg for
normal individuals but the dose must be increased three months
before pregnancy, during the first trimester and lactating mothers to
400 JJg to avoid development of megaloplastic anemia and neural
tube defects. Folic acid is used in the treatment and prevention of folate deficiency states which may occur during pregnancy and lactation, and in this
– cases Megaloblastic anemia may occur. Folic acid is used to prevent and correct megaloblastic anemia but it doesn't correct or prevent the associated neurological symptoms.
Indications:
Dietary supplement.
Side Effects:
Folic acid Mepaco is well tolerated but in large doses some symptoms
of GIT upset may occur. It is recommended that Folic acid must be used with Vitamin B12 in cases of pernicious anemia to correct and avoid the deterioration of associated neurological symptoms.
Dose:
Initial dose: 3 – 4 tablets for 6 days .
Maintenance dose: 1 – 2 tablets daily.
Pack:
Box containing 2 strips each one contains 10 tablets.
Storage:
Store in a cool dry place at temp not exceeding 30·C.
Keep all medications out of reach of children
Produced By :
Arab Co. For Pharmaceuticals & Medicinal Plants
MEPACO-EGYPT