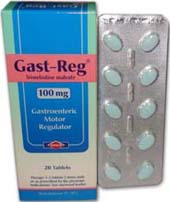 Gast – Reg trimebutine
Gastrointestinal Motor Regulator
Composition :
Tablets: Each tablet contains 100 or 200 mg trimebutine maleate.
Oral suspension: Each 5 ml after reconstitution contains 24 mg trimebutine.
Suppositories: Each suppository contains 100 mg trimebutine maleate.
Injection: Each 5 ml ampoule contains 50 mg trime5Dtine maleate
Properties :
Gast-Reg® (trimebutine) is a gastroenteric motor regulator. It restores normal physiological motility, improving abnormal peristaltic movements through
its dual action on the gastrointestinal smooth muscle contractility, whether hypo kinetic or hyperkinetic. It has a spasmolytic effect, reducing abdominal pain, and a stimulating effect in cases of hypomotility.
Indications :
Gastroenterology:
~ Functional digestive disorders accompanied by abdominal pain, spasm, fullness, flatulence, constipation or diarrhea
~Irritable bowel syndrome
Dosage :
Tablets 100 mg: 1-2 tablets 3 times daily.
Tablets 200 mg: one tablet 3 times daily.
oral-suspension :
Children:
-up to 6 months: 1/2 teaspoonful (2.5 ml) 2-3 times daily.
-6 months to 1 year: 1 teaspoonful (5 ml) twice daily.
-1 year to 5 years: 1 teaspoonful (5 ml) 3 times daily.
-Over 5 years: 2 teaspoonfuls (10 ml) 3 times daily.
Adults: 1 – 2 tablespoonfuls (10 -20 ml) 3 times daily
Suppositories: 1-2 suppositories daily.
Injection:
Total daily intravenous or intramuscular dose should not exceed 400 mg in the acute phase. The usual dose in adults is 50 – 100 mg, i.e. 1 – 2 ampoules daily administered as a 3 to 5 minutes IV injection, as a 60 minutes IV infusion or as an IM injection until resumption of intestinal motility.
Instructions for use :
Injection: Do not mix with the following:
dihydrostreptomycin – bipenicillin, injectable sodium pentobarbital. Above incompatibility provokes the formation of a precipitate in the solution, therefore improper for administration.
Contraindications :
Patients with known hypersensitivity to trimebutine.
How Supplied :
Tablets 100 or 200 mg: Strips of 10 tablets in packs of 1 or 2 strips.
Oral suspension: Bottles of 125 ml after reconstitution.
Suppositories: Packs of 5 suppositories.
Injection: Packs of 6 or 3 ampoules of 5 ml.
Keep all medicaments out of reach of children
Product of:
••• AMOUN PHARMACEUTICAL CO .
El-obur city.cairo.egypt