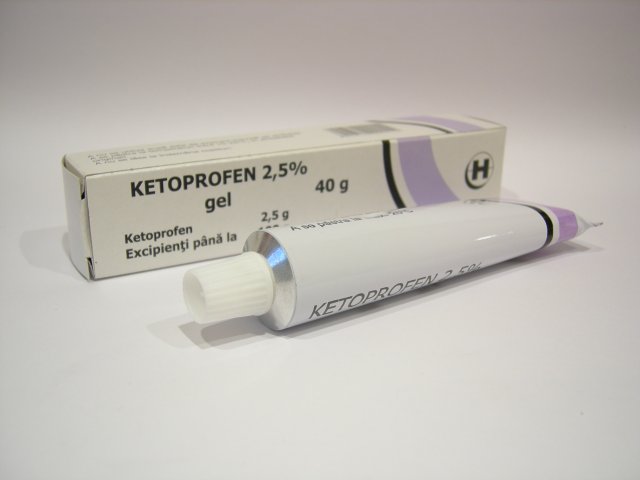 Gel  Analgesic & anti-inflammatory
Ketoprofen     2.5 %
Camphor     1 %
MENTHOL       1%
Gel
COMPOSITION:
Each 100 g gel contains:
Ketoprofen     2.5 g
Camphor     1 g
The gel base contains menthol and alcohol.
PROPERTIES:
The gel contains ketoprofen, a nonsteroidal anti-inflammatory drug, which inhibits prostaglandin synthesis through inhibition of cyclo- oxygenase enzyme, thus resulting into pronounced analgesic: and ammatory properties. Camphor is a counter-irritant, rubefacient and mild ana geslc, thus, It~· rrfibrositis,
neuralgia and similar conditions. The inclusion of menthol and
alcohol in the gel adds to the counter-irritant and analgesic actions.
Alcohol also acts as a penetration enhancer resulting into rapid
onset of action and improved activity. The gel is beneficial in many rheumatic and inflammatory disorders of musculoskeletal structures.
INDICATIONS:
Acute painful musculoskeletal conditions caused by trauma such as sports injuries, sprains, strains and contusions .
Musculoskeletal rheumatic and inflammatory disorders involving muscles, tendons, ligaments and joints.
USAGE:
Apply the gel on the skin with genUe nubbing 2-4 times daily.
SIDE EFFECTS:
The gel is well-tolerated. Rare cases of local skin reactions may
occur.
CONTRAINDICATIONS:
Hypersensitivity to any of the components.
PRECAUTIONS:
Contact with eyes, mucous membranes or broken skin should be
avoided. Avoid excessive exposure of treated skin area to direct
sunlight which may lead to photosensitivity.
PACKING:
A tube containing 20 or 40 g.
STORAGE:
Keep at a temperature (15-30·C).
Keep out of reach of children.
Produced by
PHARAONIA PHARMACEUTICALS
PHARO PHARMA – For M.O.H & P.