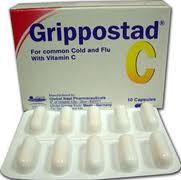 Grippostad'
for common cold and flu with vitamin c
Composition:
Pharmacologically active ingredients:
Each capsule contains 200 mg paracetamol, 150 mg ascorbic acid, 25 mg caffeine, 2.5 mg chlorpheniramine hydrogen maleate.
Other ingredients:
Gelatine, tristearin, lactose monohydrate, colorants El04, E127, E171.
Presentation and package size:
Original package containing 20 capsules.
Drug Group:
Drug for common cold.
Indications:
For the treatment of influenza-like symptoms and common cold.
Contra-indications:
When should you not take Grippostad" c? Grippostad" C should not be used by patients with:
– Hypersensitivity to any of the active ingredients or any of the excipients.
– Severely impaired kidney function.
– Congenital glucose -6- phosphate dehydrogenase deficiency (symptom:hemolytic anemia)
– Narrow angle glaucoma.
– Prostatic adenoma with residual urine.
Because of their content of lactose these medicinal products arenot suitable for patients suffering from the rare hereditary galactose diabetes, a congenital lactose malabsorption or from glucose-galactose-malabsorption.
When should you take Gripposta C only after checking with your doctor?
The following describes when Grippostad" C must be taken only under certain conditions and with special care. In these cases, please consult your doctor. Please bear in mind that these precautions may also apply to recently used medicines. Grippostad" C should be used with particular caution by patients Wit
– Impaired liver or kidney function
– Gilbert's syndrome
What should you be aware of if you are pregnant or nursing mother?
Since there is no experience in the use of Grippostad" C, this medication should not be used during pregnancy and lactation.
Precaution for use and warnings:
What should you be aware of?
There have been reports of bronchospasm being triggered by Grippostad" C in predisposed patients (analgesic drug – induced asthma)
What should you bear In mind when driving, operating
machinery or working without a firm support?
Even when used as directed, this medicine may alter your
alertness to such an extent that the ability to actively participate in
road traffic, operate machines or work without a firm support is
impaired. ThlSapphes especli'l1!yWfien alcoh61TsUsed at the same
time.
Drug interactions:
What other medicines are known to Interfere with the effects of Grlppostad"C and what to bear In mind when taking additional medication?
Please bear in mind that these precautions may also apply to recently used medicines. Gtipp!lstad" C sh!luld not.be.used togetheLWilll.CNS-depressant
drugs or alcohol, because these substances increase the effect of each other.
Concurrent use of drugs that increase paracetamol breakdown in the liver (enzyme induction) such as certain hypnotic drugs and anticonvulsants (e.g. Phenobarbital, phenytoin, carbamazepine) as well as rifampicin, can increase liver-toxicity of paracetamol. The same applies to alcohol abuse.
Concurrent use of drugs that slow gastric emptying rate, e.g. propantheUne, may delay onset of effect of paracetamol. Concomitant use of drugs that accelerate gastric emptying rate, e.g. Metoclopramide will accelerate onset of effect. The undesirable effects of Chloramphenicol may increase. Which foods and drinks should you avoid?
During the treatment with Grippostad" C you should avoid drinking alcohol.
Dosage, administration and duration of therapy The instructions given below apply unless your doctor has prescribed~jppostad" C otherwise for you. Please comply with these instructions for effective and safe Grlppostad" C therapy. How many capsules and how often should you take Grippostad" C?
Adults should, at the start of therapy, take two capsules in the morning, at mid-day, and in the evening. As symptoms abate, a dosage of one capsule morning, mid-day, and evening is sufflcient, How should you take Grippostad" C?
You should take capsules with a sufficient amount of water.
How long should you take Grippostad" C?
Grlppostad"CCan be ta en un I symp oms c ear up. n case 0 high fever or falling to see any appreciable improvement a doctor has to be called. Grippostad" C should not be used for prolonged periods or in higher doses without consulting a doctor.
Violation of dosing schedule and overdosage:
What should you do In the event of a (deliberate or inadvertent) Grippostad" C overdose? Overdose of paracetamol, the active substance in Grippo&tad ·C,
may include in the beginning (1″ day) nausea, vomiting, perspiration, sleepiness and general feeling of sickness.Although the 2′" day is marked by subjective improvement in overall well-being, the liver impairment could continuously worsen to a hepatic coma on the 3″ day. If you suspect a Grippostad"C overdose call a doctor immediately who will decide how to proceed.
What should you do, If you have missed a dose?
When the next dose is due don't take more capsules of Grippostad" C but continue your therapy with the recommended dosage.
What shoutd you bear in mind, if you interrupt or end the therapy prematurely?
When complying with the intended use of Grippostad"C capsule no special precautions must be taken in account.
Sida effects:
What adverse reactions could occur while using Grippostad" C?
There have been extremely rare reports of impaired blood formation due to the active ingredient paracetamol, including reduced platelet count or reduced white cell count (thrombocytopenia, leucopenia, agranulocytosis) or deficiency of all blood cells (Pancytopenia) Grippostad"C has, in isolated instances, been associated with gas ro-m es ma symp oms, a Igue, ry mouth, triggering 0 glaucoma ( angle-closure glaucoma) , hypersensitivity reactions of
the skin and difficulty passing urine. There have been isolated reports of the active ingredient paracetamol being associated with severe hypersensitivity
reactions (swelling of the face, dyspnea, sweating, nausea, blood pressure fall to the point of shock). There have been isolated reports of bronchospasm being
triggered in predisposed patients (analgesic drug induced asthma)
Prolonged use of high cIosages could in single cases lead to liver – and kidney impainnent, severe liver impairment can occur after over dosage.
Should you experience any adverse effects not described in this insert, please be sure to inform your doctor or pharmacist.
Which steps should be taken if side effects occur?
In case of the first signs of hypersensitivity reactions please stop taking Grippostad" C and call a doctor immediately.
Shelf life and stability of this medicine:
The expiry date is printed on the box and the blister foil. Do not use this medicine after the expiry date. How should you store Grlppostad "C?
store at temperature not exceeding 30'C, in dry place.
I Keep out of reach of children I
produced by :
GLOBAL NAPI PHARMACEUTICALS
Industrial Zone, 6" of October City – Egypt