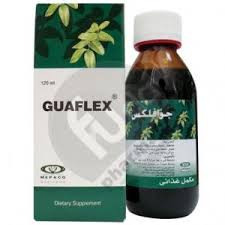 Guaflex
Syrup
Composition:
Each 100 ml contains:
Guava Leaves Extract                                           5ml
Tilia Flowers Extract                                            5ml
Fennel Oil                                                               0.1 ml
Syrup to                                                                  100 ml
Properties:
Guaflex syrup is an effective and pleasant combination of extracts of Guava Leaves, Tilia flowers an Fenneloil.
Indications:
Dietary supplement to improve bronchial functions.
Dose :
Adults: 1-2 tablespoonfuls 3-4 times daily.
Children: ~ -1 teaspoonful 3-4 times daily.
Pack:
Bottle containing 120 ml.
Storage:
Store at temperature not exceeding 30 QC.
Keep medications out of reach of children
Produced by:
AI-debeiky for Pharmaceutical Industries