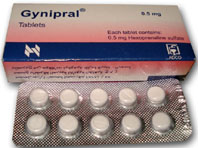 GYNIPRAL           AMPOULES – Tablets
For Tbe Medical Profession Only
Tocolytic (Uterorelaxant)
COMPOSITION :
Each ampoule 2 ml contains:
Hexoprenaline Sulphate     10 mcg
Each Tablet contains:
Hexoprenaline Sulphate     0,5 mg
PROPERTIES:
– GYDipral is a selective b2 sympathomimetic agent which relaxes the uterus, by decreasing or arresting both the frequency and the intensity of the uterine contractions ,
– Gynipral inhibits both tbe spontaneous and orytoein – induced labour,
– G)'nipral stabilizes strong or irregular uterine contractions of the uterus during delivery
– GYDipral bas Slighter efTetts on the heart rate and circulation tban many otber sympathomimetic drugs,
– Gynipral in the majority of cases, prevents the possibility of premature labour and prolongs gestation until the normally expected date of birth,
INDICATIONS:
During Pregnancy:
Gynipral prevents threatened abortion with premature labour follo"'iDg the 23 rd gestational week, It also •• 'oids labour during cervical suture operations and other surgical interventioas in the gravid uterus following the 12 th gestational week,
During Delivery:
Gynipral is indicated in acute intrauterine asphyxia ( fetal distress ), irregular labour and hypermotility of the uterus, tentati ve diagnosis of compression of the cord and preparation of caesarean section. Gynipral is indicated prior to version of transverse presentations, in prolapse of cord and dystocic labour,
ADMINISTRATION:
AMBOULES:
For I. V, Administration only:
– Dilute 2 ml G)'nipralampoule (10 mcg) with 8 ml aline solution to produce 10 ml to be injected I,V, slow I), during 5-10 minutes to suppress uterine centraction spontaneously,
TABLETS:
Unl",~ otherwrse prescribed hy )'our ph,'sician, strictly adhere 10 the dosage recommended, Imminent miscarriage or premature delivery: After a precedent administration ofGloipral ampoules, treatment with Gynipral 0.5 mg tablets is started about I – 2 hour prior to the discontinuation of tbe administration of the Gynipral infusions, Initially I tablet is taken every 3 hours, Later on 1I more widely spaced intervals every 4 – 6 hours (8 to 4 tablets a day) with ome Liquid,
CONTRAlNDICATlONS:
Massive genilal bleeding, abruptio placentae, tachycardiac arrhythmia .intrauterine infections, G)'nipral should be administered with caution in thyrotexicosis, myocarditis, hypoteasion, s •• 'ere renal failure, mitral valve defects and idiopathic hypertrophic suhvalvular aortic stenosis,
SIDE EFFECTS:
During the I. V, use of Gynipral, tachycardia may occur but is generally well tolerated by the patient Increase of the heart rate to levels above 120Jminute is a sign of overdosage and can rapidly be normalized by reduction of the dose, The fetal heart rate is seldomly affected. There may be an occasional drop in the maternal hlood pressure lasting for a few minutes, Sometimes dose- related individaal and dizziness, nausea may occur.
Notice:
Gynipral should not be combined with other sympathomimetic drugs, theophylline preparations, MAO – inhibiters, and halogenated aaaestheties (because they might intensify side effects on circulation) ,
PRECAUTIONS:
It is advisable to regularly check maternal blood pressure during administration of Gynipral It is also advisable to monitor the fetal heart rate every 15 minutes initially and every ODe to six hours later on.ln case of intrauterine asphyxia, continuous monitoring of these parameters is imperative. In long term administration of the infusion it is advisable to reduce the intake of Iluid and salt , Patients sbould be examined for signs of oedema,
Patients should be kept in the left lateral position as a prophylactic measure against the vena cava compression syndrome  Overdosage of G)'nipral can be conlrolled by adminisrranon of a B Blocker,
PACKAGE:
Gynipral Ampoules 10 ug n ml in packs of 5 & 25 Ampoule,
Gynipral Tablets: box ono or 100 tablet in strips,
MANUFACTURED BY:
the arab drug company cairo A.R.E