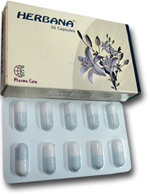 HERBANA
Hard gelatin capsules
Food supplement
Composition:
Each capsule contains:
Fenugreek                                 250 mg
Fennel                                         50 mg
Dill                                                50 mg
Caraway                                     150 mg
Properties:
Herbana capsules is a synergetic combination of seeds containing volatile oils
Herbana capsules contain:
Fenugreek: contains vitamins A; 8 I and C, beside several minerals especially iron. It also contains proteins as well as many aromatic volatile oils.
Fenugreek also contains Choline and Lecithin which reduce cholesterol.
Fennel     : is rich in aromatic volatile oils and several essential minerals. it also
improve digestion
Caraway : contains large amounts of vitamins and essential elements. Caraway is rich in volatile oils.
Dill     : includes several volatile oils as Carvone.
Indications:
Food supplement to:
Improve the gastrointestinal function.
Dosage
One capsule 3 times daily.
Packing
Carton box of 2 strips each contains 10 capsules
Storage
Keep at a temperature not exceeding 30 c.
Manufactured by
Slgma pharmaceutical lndaseies
Pharma cure pharmaceuticals
dI~ Pharma Cure