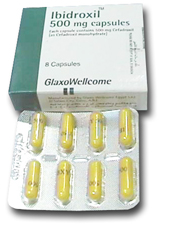 lbidroxil
CefadroxiI anhydrous as cefadroxil monohydrate Broad Spectrum Antibiotic
To all Medical & Pharmaceutical Professions
COMPOSITION :
Capsule: Each capsule contains cefadroxil monohydrate equivalent to 250 or 500 mg cefadroxil anhydrous.
Dry Syrup: Each 5 ml after reconstitution contains ibidroxil  equivalent to 125 or 250 mg cefadroxil anhydrous
Tablet Each tablet contains cefadroxil monotwdrate equivalent to 19 cefadroxil anhydrous. Pharmacological properties
Pharmacokinetics :
Cefadroxil lbidmxil is an oral cephalosporin, having characteristics different-from the older oral cephalosporins, After doses of 500 mg to 1 gm by mouth, peak plasma concentrations of about 16 to 30 u9 Iml respectively areobtained after 1.5 to 2 hrs Cefadroxil is well absorbed from the GIT even in the presence of food. Cefadroxil also exhibits a long serum half-life. and thusa prolorqed duration of activity. It is widely distributed to body tissues and fluids. These characteristics allow for once or twice: daily administration of Ibidroxi1. More than 9mb of the dOS( of ce:fadroxil may be excreted unchanged in urine within 24 hours t1t glomerular filtration and tubular secretion.
 INDICATIONS :
Ibidroxil is indicated for the treatment of patients with infections caused by susceptible strains of the designated organisms in the following cases:
– Upper and lower respiratory tract infections
– ENT (ear, nose, throat) infections
– Skin and soft tissue infections
– Urinary tract infections
– Obstetric and gynaecological infections
– Dental procedures and infections
– Pre-and postoperative prophylaxis
DOSAGE El ADMINISTRATION :
Mulls El children weighing more than 40 kg:
500 mg to 1 g twlcea da~ in severe cases. The dOS( can be increased up to 4 g/day in equally divided doses. In skin, soft tissue and uncomplicated urinary tract lnfectlons, , 9 once: daily is recommended. In treatment of beta-haemofvtic streptococcal infections,lbidroxil should be administered as 1 g I day for at least days
Children weighing 165 than 40 kg:
25 mg/kg body weight/day in divided doses
Under 1 year: 125 mg twice daily
1-6 years : 250 mg twice daily
Over 6 years: 500 mg twice daily
Treatment should continue for 3 days after the return to normal body temperature or the signs have subsided.
Elderly:
No specific dosage recommendations or precautions for use except monitoring those patients with impaired
renal function.
Dosage in renal impairment:
Dosage should be adjusted according to creatinine clearance rates to prevent drug accumulation and serum Itvtlsshould be monitored. A modified dosage schedule is unnecessary in patients with creatinine clearance rates of 50 ml/min or less. The follooing reduced dosage schedule is recommended as a guideline: After an initial dose of 500 mg to 'MXX) mg of Ibidroxil, subsequent doses may be administered according to the following table:
Creatine clearance:                               Dose
(HO mlfminf1.73 m'                       500-1000 mg
11-25 mlfminf1.73 m'                   500-1000 mg
26-50 mlfminf1.73 m'                  500-1000 mg
Ibidroxil can be removed from the body by haemodialysis.
CONTRA-INDICATIONS El W\RNINGS :
Ibidroxil is contraindicated in patients with a history of hypersensitivity to cephalosporins if this product is to be given to penicillin-sensitive patients, caution should be exercised because cross sensitivity among beta-lactarn antibiotics has been clearly documented and may occur in up to 1()qb of cases.
Ifan allergic reaction occurs. discontinue the drug. Serious acute hypersensitivity may require treatment with epinephrine and other emergency measures, as clinically indicated (pressor amines, corticosteroids and/or antihistaminics], depending on the severity of the reaction. Pseudomembranous colitis has been reported with nearly all antibacterial agents, including Cefadrcxil, and may range from mild to life- threatening. Therefore it is important to diagnose this condition in patients who present with diarrhoea subsequent to administration of antibacterial agents.
Treatment with antibacterial agents alters the normal flora of the colon and may permit o'wt:rgrowth of clostridia. Studies indicate that the toxin produced by dostridium difficile is a primary cause of antibiotic- associated colitis After diagnosis of pseudomembranous colitis has been established, therapeutic measures should be initiated. Mild cases of pseudomembranous colitis usually respond to discontinuation of drug alone. In moderate to severe cases, consideration should be given to management with fluids and electrolytes, protein supplementation and treatment with an antibacterial drug effective against clostridium difficile.
Use in pregnancy and lactation:
Although animal studies havt not shown any Nidence of teratogenicity, the drug should be used during pregnancy only if clearly needed. Ibidroxil is excreted in breast milk and should be used with caution in lactating mothers.
Precautions:
Ibidroxil should be used with caution in the presence of markedly impaired renal function. In patients with known or suspected renal impairment, careful dinical observation and appropriate laboratory studies should bemade prior to and during therapy. As with all antibiotics, prolonged use may result in over-growth of non-susceptible organisms. As with other broad-spectrum antibiotics, pseudomembranous colitis has been reported. It is important to consider its diagnosis in patients who develop diarrhoea in association with Ibidroxil therapy.
Adverse reactions:
The most commonly reported side effects are gastrointestinal disturbances and hypersensitivity reactions. Rash, pruritus, urticaria, angio-oedema haYt been observed infrequentJ¥ Serum sickness, erythema multiforme andanaphylaxis have been reported rarely. Side effects, including nausea, wmiting, diarrhoea, dyspepsia, abdominal  discomfort, fMr, dizziness, headache, arthralgia and genital candidiasis may occur rarely; as may leueopoenia, agranulocytosis and Stevens-Johnson's syndrome. Colitis. including rare instances of  pseudomembranous colitis. has been reported. In addition to the above, the following adverse reactions and altered laboratory tests have been reported for all the cephalosporin class antibiotics:
epidermal necrosis, abdominal pain, superinfection, renal dysfunction, toxic nephropathy, aplastic anaemia, haemorrhage, prolonged prothrombin time. posotbe Coomb's test, increased BUN, increased creatinine. elevated alkaline phosphatase, elevated AST. elevated ALl. elevated bilirubin. elevated LDH. eosinophilia.
Overdosage:
Intake of <250 mg/kg in children under six years of age was not associated with significant outcomes. The patient should be observtd and treated imptomaticallv doses >250 mgfkg, induce gastric emptying.
Drug interactions:
A false-positive reaction may occur in some patients receivinq Ibidroxil. Urine from patients treated with Ibidroxil may give a false-positive glycosuria reaction when tested with Benedict's or Fehling's solutions. This does not occur with enzyme-based tests.
PHARMllCEunCAl PRECAUTIONS :
Store below 30°C
PACKAGE :
Blister of 8 capsules of 250 or 500 mg.
Bottle of 60 rnl in pocder form, each 5 rnl contains 125 or 250 rng after reconstitution.
2 strips 4 tablets of 1 9 each
– N.B. Syrup should be used within 7 d<t,'S after reconstitution,
– KEEP ALL MEDICAMEN15 OUT OF THE REACH OF CHILDREN
Manufactured by :
Glaxo SmithKline S.A.E.,
El Salam City, Cairo, A.R.E.