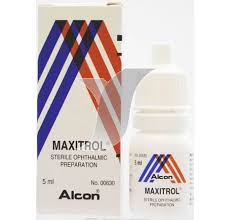 Isopto maxitrol
OphthalmiC suspension
Sterile Eye preparation
composition :
Active Ingredients: Demethasone 0.1 %,  Neomycin (present as sulfate) 3. 500 units/ml and polymyxin B Sulfate 6. 000 units/ml.
Vehicle: Hydroxypropylmethyl cellulose 3550 mPa.s. 0.5%.
Preservative: Benzalkenium Chloride 0.004%.
The Eye prepartion of Isopto maxitrol combines two antibiotics offering broad spectrum anti-bactenal activity with the anti-Inflammatory activity of anew corticosteroid , dexamethasone for combating certain microbial infections of the anterior segment 0f the eye(s) and the external ear canal.  The preparation is formulated in an isotornc menstrum containing hydroxypropylmethyl cellulose for maximum effectiveness and comfort.
ACTION:
Polymyxin B Sulfate is a highly selective antimicrobial agent having greater activity against gram-negative than gram-positive organisms. Polymyxin is one of the most active antibiotics known against Pseudomonas aeruginosa. Most strains of this organism are inhibited by 10 mcg/ml or less. The following organisms have been demonstrated in vitro to be highly susceptible: A. aerogenes, E. coli, K. pneumoniae, Koch-Weeks bacillus, Pseudomonas aeruginosa.
The nature of the anti-bacterial action of Polymyxin B Sulfate is remarkable. It is almost uniquely bactericidal, resembling the action of chemical disinfectants rather than antibiotics. Neomycin Sulfate is a broad spectrum antibiotic, highly active against various gram-positive and negative bacteria. Some organisms which are
sensitive to this antibiotic are: Staphylococcus aureus, C. diphteriae, E. coli, A. aerogenes, K. pneumoniae, Proteus vulgaris, and Pseudomonas aeruginosa.
The action of Neomycin against sensitive organisms is both bacteriostatic and bactericidal. The mechanism of action is unknown. Development of resistance has been demonstrated only at a low rate in vitro. Barr. et al. (6) reported that the combination of Polymyxin B Sulfate and Neomycin Sulfate had a definite synergistic action when tested in vitro against Staphylococcus aureus, Bacillus subtilis, E. coli, Streptococcus fecalis, Proteus vulgaris, Streptococcus agalactiae, and Pseudomonas aeruginosa. Other investigators have corroborated these results. Dexamethasone, the most active of a series of recently synthesized, 16-methyl substituted hydrocortisone analogs, is one of the most potent and effective corticosteroidspresently available.
The anti-inflammatory action and high degree of corneal penetration makes it ideal for combining with these antibiotics in controlling the undesirable phases of inflammation associated with bacterial infections.
INDICATIONS:
Eye: In the management of infectious ocular inflammations produced by organisms which are sensitive to the antibiotics, Neomycin Sulfate and Polymyxin B Sulfate. Acute or chronic nonpurulent conjunctivitis, blepharoconjunctivitis and
keratoconjunctivitis; nonspecific superficial keratitis; deep keratitis; acne rosacea keratitis; iridocyclitis mild acute iritis; recurrent marginal ulceration and corneal ulcer (use with care in those diseases causing thinning of the cornea because of the danger of perforation); non purulent blepharitis; scleritis; episcleritis; scleroconjunctivitis; herpes zoster ophthalmicus (do not use in Herpes simplex); and post- operatively to aid in the prevention of ophthalmic cases of infections
CONTRAINDICATIONS:
This drug is contraindicated tuberculous, fungal and most viral lesions of eye (Herpes simplex/dentritic keratitis); vaccinia; varicella; acute purulent conjunctivitis and acute purulent blepharitis, aural fungal infection.
PRECAUTIONS:
Extended use of topical steroid therapy may cause increased intraocular pressure in certain individuals. It is advisable that intraocular pressure be checked frequently.
In those diseases causing thinning Of e corrrea, perforation has been known to occur with the use of topical steroids. Prolonged use may result in overgrowth of non- susceptible organisms, including fungi. Appropriate measures should be taken when this occurs. A few individuals may be sensitive to one or more components of this product. If any reactions indicating sensitivity are observed, discontinue use.
Although topical steroids have not been reported to have an adverse effect on pregnancy, the safety of their use in pregnancy has not absolutely been established. Therefore it is advisable not to use this product for long-term treatments of pregnant patients.
DOSAGE AND ADMINISTRATION:
Eye: One or two drops topically in the conjunctival sac(s) 4 to 6 times daily. Dosage may be reduced after 3 to 4 days when satisfactory improvement has been obtained.
Treatment should be repeated as long as necessary following physician's advice.
STORAGE CONDITION:
Do not store above 30°C, and discard bottle after 28 days of its opening.
AVAILABLE DOSAGE FORMS:
ISOPTO MAXITROL® is supplied in 5 ml sterile DROPTAINER® Dispensers. (Rx).
Also available: ISOPTO MAXITROL" eye-ear Ointment 3.5 g (Rx): ISOPTO MAXIDEX" (dexamethasone) 5 and 15 ml (Rx).
REFERENCES:
(1) Arth C.E.; Johnston, D.B.R.; Fried, J.' Spooner, w.w.; Hoff, D.R.; and Sarett, L.H.; J. Am. Chem. Soc. 80.- , .
(2) Gordon, D.M.; Ann, N.Y. Acad. Sci. 80-100B, 1959.
(3) Leopold, I.H.; and Kroman, M.S.; AMA Arch. Ophth. 63.943, 1960.
(4) vogel, AW.; Leopold. I.H.; and Nichol, A; Am. Ophth. 34:1347, 1951. —
(5) Lopez, S.P.; Antibiotic & Chemother. 4 :489-95, 1954.
(6) Barr, F.S.; Carman, P.E.; and Harris, J.R.; Antibiotic and Chemother. 4:818-21, 1954.
(7) Gunnison, J.B.; Shevky, M.D.; Bruff, J.A.; Coleman, V.R., and Jawetz, E.;
J. Bact. 66:150,1953.
WARNING FOR BENZALKONIUM CHLORIDE:
– May cause eye irritation
– Avoid contact with soft contact lens~s. .
– Remove contact lenses prior to application and wait at least; 15 Minutes before
reinsertion contact lens.
– Known to discolor soft contact lenses.
produced by :
ALCON avovartis company