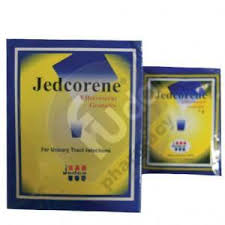 Jedcorene effervescent granules
For urinary tract infections
Composition:
Each sachet 5g contains:
Piperazine Citrate                     150 mg
Hexamine                                   475 mg
Khellin                                         1.5 mg
Effervescent Base to                  5 g
Properties :
The urinary antiseptic action. of JEDCORENE effervescent granules depends mainly upon the presence of hexamine,' Which .is used in the prophylaxis ,and
treatment of chronic or recurrent uncomplicated , lower urinary tract
infections and asymptomatic bacteruria. It is readily absorbed from the GIT and widely distributed in the body, under acid conditions it is hydrolysed to formaldehyde and ammonia.The half – life is approx. four hours
Hexamine is rapidly and almost completely eliminated in the urine, the peak concentration of formaldehyde is up to 2 hours after administration. khellin which has a direct relaxant action on the smooth muscles relieves the colic
which usually associates urinary disorders and Piperazine which adds to the benefit
of JEDCORENE by increasing uric acid excretion and dissolving urate crystals
Indications:
Urinary tract infections : pyelitis, pyelonephritis, cystitis, uretheritis
JEDCORENE helps ( as adjuvant ) in case of recurrent urate calculi
Contraindications :
Impairment of hepatic function due to liberation of ammonia from hexamine in the GIT Renal failure, severe dehydration and metabolic acidosis
Side effects:
It is well toleratad but sometimes may cause some GIT disturbances e.g nausea, vomiting
Sometimes in rare cases skin rashes.
Warning:
Overdose may rarely produce nervous complications especially in patients suffering from disturbances in the renal.functions
Use in pregnancy:
It advised not to be used during pregnancy,especially in the first trimester unless the treatment is essential
Drug interactions:
concomitant use of hexamine and sulphonamides may increase the risk of crystaluria. the concomitant use othexamli1eWlth-urine alkalinizers, Including –
some antacids .pot-citrate, and diuretics must be avoided because the activation of
hexamine to formaldehyde may. be inhibited.
Dosage and administrations:
Unless otherwise prescribed by the physician:
The contents of one sachet to be dissolved in1/2 glass of water to be taken 3 times
daily after meals.
Storage :
store below 30 C                                      Keep all medications out of reach of children,
keep out of light and moisture,
Packing:
A carton box containing 12 sachets of 5 gm in each & a pamphlet.
produced by :
Jedco International Pharmaceuticals Co.
Free Zone – Nasr City – Cairo – Egypt