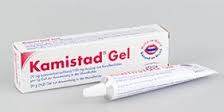 Kamistad gel
Composition :
Pharmacologically active ingredients: 1 g gel contains:
Lidocaine hydrochloride                          20mg
Camomile flower extract (I :4-5)          185 mg
Extractant: ethanol 50% (V/V)
with tromethamole 1.37% (m/m).
Other ingredients: Benzalkonium chloride, cinnamon
oil, saccharin sodium dihydrate, carbomers, tromethamol, anhydrous formic acid 98%, ethanol 96%, purified water.
Presentation and Package Size:
Original package containing a 10 g tube of gel.
Drug group :
Kamistad®-Gel is a medicine for inflammations for the application to the lips and the oral mucosa.
Pharmaceutical company :
STADAArzneimittel AG, Stadastrasse 2-18, 61118 Bad Vilbel, Germany.
Telephone: ++49 6101 603 0; Fax: ++496101603259
Internet : http://www.stada.de
Indications :
Traditionally used as a mild medication for light infections of the gums and the oral mucosa.
Contra- indications :
Known hypersensitivity to lidocaine or to other local anesthetics ofthe amide type, to camomile or to any of the other ingredients.
-What to bear in mind for the use in children ?
For infants and toddlers no more than three times a 1/2 cm length of Kamistadf-Gel should be used within a period of 24 hours.
-What should you be aware of if you are pregnant or nursing an infant ?
Safe use of Kamistad" -Gel in pregnant women and during lactation has not been established. Therefore, this medication should not be used during those periods.
Dosage and administration :
The instructions given below apply unless your doctor has prescribed Kamistadf-Gel otherwise for you. Please comply with these and/or your doctor's instructions for effective and safe Kamistad" -Gel therapy.
In which dosage and how often should you use Kamistad Gel ?
Please apply a Y, cm length of Kamistadf-Gel three times daily.
How and how long should you use Kamistad Gel ?
For tteatmenf of the gums and discomforts due to dentures, apply Kamistadf-Gel to painful or inflamed areas and massage in gently.
Teething complaints in infants and toddlers :
For infants and toddlers no more than three times a 1/2cm length of Kamistadf-Gel should be applied within a period of 24 hours.
Kamistadf-Gel should be used until the symptomsabate. High dosages over a long period should not be used without doctor's consent.
Violation of dosing schedule and overdose action :
There have been no reports on overdosing of Kamistad" -Gel. For overdosing due to a violation of the dosage instructions, your doctor should perform treatment according to the discomforts.
Side effects :
What-adverse reaction could you experience while using Kamistad Gel ?
Occasionally a temporary light burning sensation may occur after the application of the gel. very rarely allergic reactions may occur that are not limited to the area of application (oral mucosa), e.g,
reddening of the skin and hives. Should you experience any adverse effects not described in this insert, please be sure to inform your
doctor or pharmacist.
Shelf life and stability of this medicine :
– The expiry date of this medicine is printed on the package and the tube. Do noruse this medicine after this date!
– Store at a temperature not exceeding 30'C.
– Keep out of reach of children I
Prodused by :
GlOBAl. NAPI PHARMACEUTICAlS
2 Industrial Zone, 6· of October City· Egypt