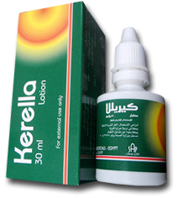 Kerella lotion
Composition :
Each 1 gram contains :
– Betamethasone dipropionate                    0.64 mg
(Equivalent to 0.5 mg betamethasone)
– Salicylic acid                                                 20 mg
Pharmacodynamics :
Betamethasone dipropionate, a synthetic corticosteroid, has anti-inflammatory, antipruritic & vasoconstrictive
actions. Topical salicylic acid has keratolytic properties as well as bacteriostatic & fungicidal actions. Kerella lotion demonstrates these actions in a sustained manner, thereby permitting twice a day
application.
Indications :
Kerella lotion is indicated for the relief of inflammatory manifestations of psoriasis & seborrhea of scalp.
Kerella lotion is also indicated for the relief of inflammatory manifestations of non-scalp lesions of psoriasis & other corticosteroid responsive dermatoses.
Adverse reactions :
Adverse reactions that have been reported with the use of topical corticosteroids include:
Burning, itching, irritation, dryness, folliculitis, hypertrichosis, acneform eruptions, hypopigmentation, perioral dermatitis, allergic contact dermatitis. The following may occur more frequently with the use of occlusive dressings:
Maceration of skin, secondary infection, skin atrophy,
striae & miliaria Salicylic acid preparations may cause dermatitis.
Contraindications :
– In patients with a history of sensitivity reactions to any of its components.
– Tuberculous and most viral lesions ofthe skin.
– Perioral dermatitis.
Precautions :
If irritation or sensitization develops with the use of Kerella lotion, treatment should be discontinued. In the presence of an infection, appropriate therapy is indicated. any of the side effects that are reported following systemic use of corticosteroids, including adrenal
suppression, may also occur with topical corticosteroids, especially in infants & children.
Systemic absorption of topical corticosteroids or salicylic acid will be increased if extensive body surface areas are treated.Application of salicylic acid to open wounds or damaged skin should be avoided. If excessive dryness or increased skin irritation develops, discontinue use 0f this preparation
Kerella lotion is not for ophthalmic use; avoid contact with eyes & mucous membranes. Pediatric patients may demonstrate greater
susceptibility to topical corticosteroid induced hypothalamic-pituitary-adrenal (HPA) axis suppression.
Pregnancy & Lactation :
Since safety of topical
corticosteroid use in pregnant woman & lactation has not been established, drug of this class should be used only if the potential benefit justifies the potential risk to the fetus.
Dosage & method of application :
Apply few drops of Kerella lotion to the affected area, massage gently & thoroughly into the scalp or skin. The usual frequency of application is twice daily, in the morning & at night. Foe me patients, adequate maintenance therapy may be achieved with less frequent application.
Presentation :
– Plastic bottles of 30 ml each.
– Store at temperature not exceeding 30° C, in a dry place.
– For external use only.
– Keep out of reach of children I
produced by :
GLOBAL NAPI PHARMACEUTICALS
Industrial Zone, 6 of October City· Egypt