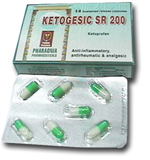 KETOGESIC 50   Capsules
Analgesic, antipyretic, anti-inflammatory & antirheumatic
COMPOSITION:
Each capsule contains:
Ketoprofen      50 mg
PROPERTIES:
KETOGESIC 50 is a nonsteroidal anti-inflammatory drug with antirheumatic, analgesic and antipyretic properties. KETOGESIC 50 inhibits the synthesis of prostaglandins and leukotrienes which are the main mediators in inflammation, pain and fever. The anti- inflammatory action of KETOGESIC 50 is enhanced through its
antibradykinin activity as well as lysosomal membrane-stabilizing action. KETOGESIC 50 produces a rapid reduction in joint pain and inflammation resulting into improved mobility and functional independence ..
INDICATIONS:
Joint inflammatory and degenerative disorders:
– Rheumatoid arthritis.
– Ankyloslng spondylitis.
– Gouty arthritis.
– Osteoarthritis.
Mild to moderate pain of musculoskeletal structures, e.g. soft tissue rheumatism, myalgia, low back pain and sciatica. Dental pain, e.g. toothache and after orodental surgical procedures. Post-traumatic and post-operative pain. Primary dysmenorrhea.
Conditions associated with fever.
DOSAGE:
One capsule 2-4 times daily. preferably with or after food.
SIDE EFFECTS:
KETOGESIC 50 capsules are well tolerated. Mild side effects, e.g. mild gastrointestinal disturbances or skin rash may rarely occur.
CONTRAINDICATIONS:
Hypersensitivity to ketoprofen and active peptic ulcer.
DRUG INTERACTIONS:
Dosage adjustment of warfarin is necessary when it is concurrently administered with ketoprofen. Probenecid delays excretion of ketoprofen. Elimination of lithium and methotrexate is reduced. Corticosteroids increase the risk of GI bleeding and ulceration.
PRECAUTIONS:
The dose should be reduced in patients with significantly impaired renal function or chronic liver disease.
PACKING:
A box containing 10 or 20 capsules.
STORAGE:
keep at atemperature )15 – 30c)
keep out of reach of children
PRODUCED BY :
PHARAONIA PHARMACEUTICALS
New Bor9 El-Arab City Alexandria, A. R. E.