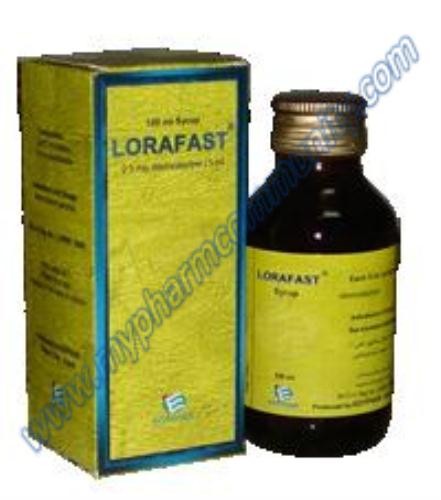 LoraFast        Syrup
 ComposItion:
each 5 mI Contains
Desloratadine     2.5 mg
 Phannacological action:
Oesloratadlne is a long-acting lricyclic histamine antagoniSt with selective Ht-receptor histamine antagonist activity, Receptoe binding data indicates that a concentration of 2-3 nanogram/ml . DeslOOl\adioe shows significant intamction with ee human histamine Hl-feceptor. Oesloratadine inhibited histamine release from mast coil in vitro. Results of tissue distribution study showed that des\ofaladine did not readily cross the blood blain barrier ,
 Pharmacokinetics:
–  Absorption: neither food nor grapefruit Juice has an effect on the bioavailablllty of desloratadine.
–  Distribution: DesJoratadine end J.hydroxydesloraladine are approximately 82% to 87% to 89% bound to plasma proteins, respectively. Protein binding of desloratadine and 3-hydroxydesloratadine was unaltered in stJbteds with impaired (erlal function
– Metabolism: deslorBtadlne is exteosivety metaboliZed to 3-hydroxydesloratadine .an active metabdfle.which is subs8quenlly
glucourinated. No overan differences in safety when! observed between poor metabolizer and normal metabolizers.
– Elimination: the mean elimination hatfltfe of deslO/Clladine was zr tcors. the degree of accumulatlon after 14 days of dosing was consistent with half life & dosing lrequency.
Indications:
– Seasonal Allergic Rhinitis: lORAFAST Is Indicated for the relief of the nasal & rco-neser symptoms of seasonal rhinitis (in patients 2 years of age & older).
– Perennial Allergic Rhinitis: LORAFAST Is Indicated fO( the relief of the nasal & non-nasal symptoms of perennial allergic rhlnitls (in patients 6 months 01 age & older).
– Chronic Idiopathic Urticaria: LORAFAST is Indicated for the symptomatic relief of pruritus. reduction In the number of hives & size of hives in patients with chronic Idiopathic urticaria (6 months of age & older).
 Dosage. and Admlnstration :
– Adults & children 12 years of age &over. tile reoommended dose of lORAFAST is 2 Teaspoonfulls ONCE daity.
-Children 6 to 11 years of age: the recommended dose of lORAFAST Is 1 Teaspoonful! ONCE daity.
-Children 12 months to 5 years of age: the recommended dose of LORAFAST is YoleaspoonruJl ONCE daily.
-Children 6 to 11 months of age: the recommended dose of lORAFAST is 2 rnI ONCE dally. should be administered with a commer- cially ava~able measuring dropper or syringe thalls calibrated 10 deliver 2 mI .
 Contraindications :
LORAFAST Is contraindicated In patienls who are hypersensitive 10 this medication or to any of it's ingredients Of to loratadine.
 Side effects:
The following spontaneous adverse events have been reported during the marKeting of desloratadine: tachycardia .palpitatiOns f3rety hypersensitlvity reactions ( such as rash ,pruritus. urtlcaria . edema. dyspnea and anaphylaxis) and elevated liver enzymes including bilirubin and very rarely hepatitis, allergic rhinitis and chronic idiopathic urticaria.
Drug interaction ::
Oesloratadlne exh!bils an antihistaminlc effect by 1 hour.
Pregnancy & lactation:
– Pregrnmcy cetegory C: desloretedine should not be used during pregnency, end only used If cleerly needed.
– Nursing mothers: Oeslolatadine passes into breast milk. therefore a dedslon should be made whether to discontinue nursing Of to discontinue Desloratadine taking according to the Importance of drug to the mother.
 precautlons and warning:
LORAFAST contains Oeslofaladlne
 Carclnogenesll, mulageneals,!mpalnnent of fertility:
-rhe studies did not show significant increase in the incldence of any tumor.
-In genotoxiclty studies there was no evidence of genoloxic potential in a reverse mutation assay.
-there was no effect on female fertility in rats a\ Oosloratadlne dose up 10 24 mg/mt , and there was also no effect on male fertillly in rats in dose up to 3 mglmI.
Pediatric Use:
The safety & effectiveness of LORAFAST has not been demonstrated In pedlatric patients less Ihan 6 month of age.
Geriatric Usa:
In general. dose selection lor an elderly patient shOuld be cautious. reflecting the greater freQuency of decreased hepatic. renal. or cardiac function. arK! of concomitant disease or other drug therapy.
Sorbitol precaution:
Not 10 be used for diabetic patients.
Instructions for patients :
lORAFAST may be taken without regard to meals .patients should be advised to increase the dose or dosing frequency as studies have no demonstrated increase effectiveness at h:gher ocses 3. somnolence may occur.
Drug Abuse & Dependence:
There is no information to Indicate that abuse or dependency occur with LORAFAST.
Overdosage:
In the event of overdoses. consider standard measures to remove any unabsort>ed drug. Symptomatic & supportive treatment is recommended. Oesloraladine and it's metabohte are not eliminated by heamodiatysis.
Package and storage:
A bottle contains 100 mI.
Store below 30oc, protoct from light
keep out of Ihe reach of chlldntn.
Produced by:
EGYPHAR Obour City. Egypt