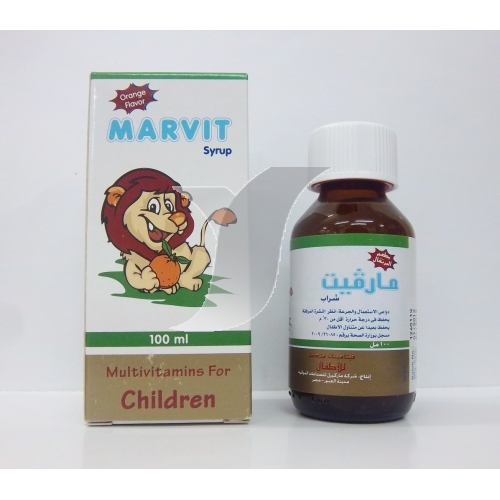 Marvit Syrup
Composition:
Each 5 ml contains:
Active Ingredients:
Vitamin A (Palmitate)                      20001.U.
Vitamin D3 (Cholecalciferol)          2001.U.
Vitamin Bl (Thiamine HC/)              1 mg.
Vitamin B2(Riboftavin)                    1 mg.
Vitamin B6(Pyridoxine HCI)           1 mg.
Vitamin c (Ascorbic acid)               50 mg.
Vitamin E Acetate                              10mg.
Nicotinamide                                      3mg.
Calcium gluconate                            50mg.
IEq. to Calcium)                                4.65 mg
Ferrous gluconate Calcium gluconate                             9 mg.
Vitamin B12 (Cyanocobalamin)      2 mcg.
Biotin                                                    100 mcg.
Vitamin BS(Calcium D- Pantothenate) 3mg.
Flourine                                                0.25 mg.
Sodium Selenium                               32.85 mcg.
IEq. to Selenium                                 15 mcg
Inactive Ingredients:
Sucrose, Glycerin, Propylene Glycol, Citric Acid, Methyl Paraben, Propyl Paraben, orange oil, and purified water
Pharmaceutical forms:
Syrup.
Pharmacological actions:
MARVIT contains:
1 – Vit. A, ViI. C, ViI. E, & Selenium: .
Which are powerful antioxidanrs protecting the body from active free radicals which may cause damage of some organs.
2 -Vit. A:
Play an important role in vision development & increase the body immunity.
3 – Vit. B complex: Bl, B2, B6, B12:
Play an important role in normal body metabolism & energy production . Protect against some kinds of anaemia & vitamins deficiency
4-Vit. D&calcium:
Which are very important for bone & teeth formation, & Calcium is very important for blood clotting, muscle contraction & nerve transmission.
5-Iron:
Very important component of the blood to prevent & treat iron deficiency anaemia.
6 – Fluorine:
To protect against dental caries & important in bone formation.
Pharmacokinetics:
Fat soluble vitamins are absorbed after they are incorporated into micelles through the action of the body bile & pancreatic secretions. These micelles are spherical particles that have lipophilic (fat-loving) interiors and hydrophilic (water loving) exteriors that facilitate absorption of fat soluble vitamins in the body.
lndications:
1- Supply the infant body with the vitamins & minerals which are essential for growth & qevelopment.
2- Treat patients with iron deficiency anaemia.
3-lncrease child physical & mental performance.
4- Protect against many diseases such as anaemia, rickets, night blindness & other diseases caused by vitamins deficiency.
5- Very important for malnourished infants or for infants during convalescence period.
Dosage & Administration:.
From age 6 months to 2 years: 2.5ml/day
Above 2 years: 5ml/day
Contra indications:
Hypersensitivity to any ingredients.
Side effects:
– GIT disturbances ( nausea; vomiting, constipation, diarrheal .
– Excessive intake may impart a greenish colour to urine due to excessive intake of vitamin B complex.
Drug interactions:
1- The presence of neomycin reduces the absorption of vitamin A.
2- ViI. B6 reduces the effect of levodopa. •
3- The effects ofVit. D may be reduced in patient taking barbiturates, or anticonvulsants
Pregnancy and lactation:
Contact your physician before using this product.
Precautions & warning:
Do not take high dose to avoid toxic effect specially vlt. A & vit. D.
Package:
Carton box containing Bottle of 1 OOml Syrup & insert leaflet
Storage:
Store below 30'C
Keep out of reach of children
Instruction to patients:
1. Follow your doctor's dietary advice.
2.lf you forget to take a dose do not take a double dose to make up for the missed one.
manufactured by :
marcyrl pharmaceutical industries – el obour city , cairo- egypt