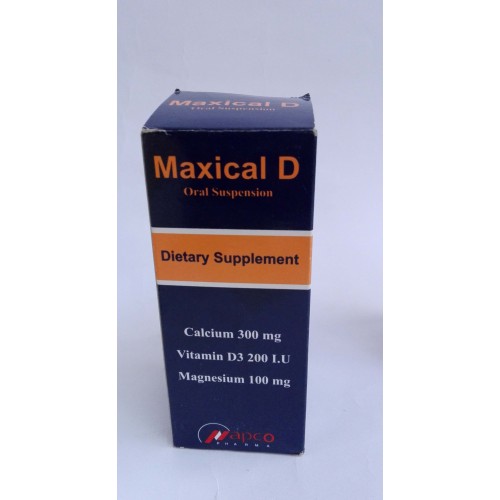 Maxical D Suspension
(Vanilla – Banana, flavour )
Composition :
Each 10 ml contains:
Elemental Calcium              300 mg
Elemental Magnesium       100 mg
Vitamin D3                          200 LU
Indication :
Dietary supplement for calcium,vitamin D3 and magnesium.
Dosage :
Unless otherwise prescribed by the physician, the usual dose is:
– Children ( 4 to 12 years): 1 teaspoonful twice daily.
-Adolescence and adults: 2 teaspoonful twice daily.
Precautions & Warning :
1- The intake of calcium may influence the absorption and efficacy
of some medicine.
2- Avoid overdose and prolonged use.
3- For long time with high dose one should monitor calcium content
in urine and blood in order to avoid overdose .
4- Contraindication in hypercalcemia, hypercalciuria.
5- Occasionally constipation may occur with high calcium
carbonate intake.
6- Shouldn't be taken for children under four years
7- Shouldn't be taken for pregnant women or patient with hepatic or
kidney disease, or with drugs contain metronidazole or disulfuram
8- Sorbitol in high doses has laxative effect.
Package :
Bottles of 120 ml tasty vanilla – banana flavoured suspension.
Storage :
Keep in temperature not exceed 30·C
keep out of the reach of children.
Dietary supplements are not intended (0 diagnose
or treat or cure or prevent any disease
Manufactured by :
The National Company (Napco Pharma) For
Pharmaceutical Industries