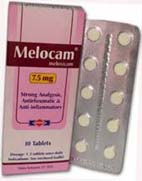 Melocam tablets ,suppositories,ampoules
meloxicam
STRONG ANALGESIC, ANTIRHEUMATIC & ANTI- INFLAMMATORY
Composition :
Tablets: Each tablet contains 7.5 mg or 15 mg meloxicam.
Suppositories: Each suppository contains 15 mg meloxicam.
Ampoules: Each ampoule 2 ml contains 15 mg meloxicam.
Pharmacological Properties :
Melocam® (meJoxicam) is a nonsteroidal anti-inflammatory drug belonging to the enolic acid group with potent anti-rheumatic effect and high tolerability as it is a preferential COX-2 inhibitor.
Selective inhibition of COX-2 (cyclooxygenase-2) provides high anti-
inflammatory, analgesic and antipyretic actions without gastrointestinal or renal side effects as COX-2 is responsible for the production of prostaglandins at inflammatory sites while COX-1 is cytoprotective in the gastric mucosa and the kidneys.
Pharmacokinetics :
Melocam® (meloxicam) pharmacokinetic profile is characterized by a prolonged and almost complete absorption from the G.I.T.
The elimination half-life is approximately 20 hours.
Indications :
–  Rheumatic diseases specially for prolonged use, e.g.,
*  Osteoarthritis            * Rheumatoid arthritis
–  Gouty arthritis
–  Severe pain of any origin
Contraindications :
– Hypersensitivity to the drug
– Active peptic ulcer
– Severe hepatic insufficiency or non-dialysed severe renal insufficiency
– Children under 15 years of age
–  Pregnancy and lactation
Precautions :
– Cross-sensitivity may occur to patients allergic to aspirin or other NSAIOs
– Avoid rectal administration in patients with recent history of rectal or anal bleeding
– Pre-existing asthma: About 10% of patients with asthma may have
aspirin-sensitive asthma. The use of aspirin in patients with aspirin sensitive asthma has been associated with severe bronchospasm, which can be fatal. Because cross reactivity, including bronchospasm, between aspirin and other SAIOs has been reported in such aspirin-sensitive patients, do not administer NSAIOs to patients with this fonm of aspirin sensitivity, and use the drug with caution in patients with pre-existing asthma.
Side Effects :
Rarely, diarrhea, flatulence, constipation, nausea, or abdominal pain may occur.
Drug interactions :
–  Cfiolestyramine binds meloxicam in the gastrointestinal tract leading to a faster elimination of meloxicam.
–  ACE inhibitors: reports suggest that NSAIDs may diminish the
antihypertensive effect of angiotensin converting enzyme (ACE) inhibitors. This interaction should be given in consideration in patients taking NSAIOs concomitantly with ACE inhibitors.
Pregnancy & lactation :
Meloxicam is contraindicated during pregnancy & lactation.
Dosage & Administration :
Tablets: 1 tablet 7.5 mg daily, in severe cases 1 tablet 15 mg daily.
Suppositories: 1 suppository daily.
Ampoules: 1 ampoule daily.
N.B.
Total maximum daily dose is 15 mg.
The recommended maximum daily dose in dialysis patients is 7.5 mg.
Instructions to patient :
Store below 25′ C. protect from light.
How Supplied :
Tablets: Strips of 10 tablets of 7.5 mg or 15 mg in packs of 1 or 2 strips.
suppositories :packs 0f-5-suppositories
Ampoules: Packs of 3 ampoules.
Warning :
–  Cardiovascular Risk :
NSAIOs may cause an increased risk of serious cardiovascular thrombotic events, myocardial infarction, and stroke, which can be fatal. This risk may increase with duration of use. Patients with cardiovascular disease or risk factors for cardiovascular disease may be at greater risk. NSAIDs are contraindicated for the treatment of peri-operative pain in the setting of coronary artery bypass graft (CAB C) surgery.
–  Gastrointestinal Risk :
NSAIOs cause an increased risk of serious gastrointestinal adverse events. including inflammation, bleeding. ulceration, and perforation of the stomach or intestines, which can be fatal. These events can occur at any time during use and without warning symptoms. Elderly patients are at greater risk for serious gastrointestinal events.
– Keep all medicaments out of reach of children
product of :
Amoun PHARMACEUTICAL CO, SAE.
EI-Obour City, Cairo, Egypt