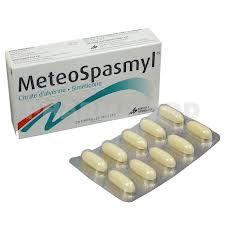 Meteospasmyl soft gelatin Capsules
antispasmodic   antiflatulence
COMPOSITION:
Each-Gapsule Contains:
Alverine Citrate                    60.00 mg
Simethicone                          300.00 mg
PROPERTIES:
Meteospasmyl is an antispasmodic drug and decreases intestinal gas. It is intended to treat gastro – intestinal pain with distension.
INDICATIONS:  
Used in the Symptomatic treatment of irritable Colon Syndrome with flatulence.
PRECAUTIONS:
The use of this drug should be avoided during pregnancy and lactation.
DOSAGE AND ROUT OF ADMINISTRATION:
For adult use Only: one Capsule, 2-3 times per day at the start of meats.
CONTRAINDICATIONS:
History of allergic reaction to or intolerance of alverine or one of the excipients.
ADVERSE EFFECTS:
Due to the presence of alverine :
– Rare Cases of urticaria, occasionally with angioedema , Shock.
– re ase of iver disorders, resolving on discontinulation of treatment.
PACKING:
A box containing 24 Capsules.
STORAGE:
Store at temperature 15 – 30°C, away from moisture.
Keep out of the reach of children.
Produced by :
pharco Pharmaceutical
ALEXANDRIA
Under licence of MAYOLY SPINDLER FRANCE