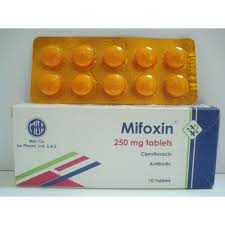 Mifoxin
Tablets 250 & 500 mg (film Coated Tablets)
Broad Spectrum Antibiotic
Composition:
each teblet contains :
Ciprofloxacin (as HCI monohydrate) 250 & 500 mg.
Properties:
Mifoxin ( ciprofloxacin) is a potent antibacterial agent of flouroquinolones,a group of synthetic antibacterialsrelated to nalidixic acid but has greater systemic antibacterial activity and having a broader spectrum.
Mifoxin is active against gram -ve bacilli and cocci including pseudomonas, klebsiella serratia, E. coli, shigella, salmonella enterobacter, neisseria, campylobacter, enterotoxiqenic E. coli, haemophilus influenzae, haemophilus parainfluenzae, proteus mirabilis, proteus vulgaris, staphlococcus aureus
including pencillinase producing and non producing strains and methicillin resistant strains) . It is moderately active against most strains of streptococci including s. faecalis, mycobacterium tuberculosis and clamydia trachomatis. It is less active against most anaerobic bacteria.
Mechanism of action:
Mifoxin is bactericidal and acts by inhibiting the A subunit of DNA gyrase, a type 11 topoisomerase essential for AlP depending coiling and supercoiling of bacterial DNA.
Absorption:
Mifoxin is well absorbed from ,gastrointestinal tract after oral administration, it has bioavailability of approximately 70% .
Distribution :
It is distributed through out.all body tissues and fluids. Tissue concentration exceeds that of serum concentration specially in the kidneys, liver, gall bladder, lungs, gynaecological tissue and prostatic tissues. It is also distributed to saliva, nasal secretions, aqueous humor, sputum skin blister fluid, lymph, peritoneal fluid, bile, prostatic secretions and breast milk. It is also distributed through skin, fat, muscles, bones and cartllage as well as cerebrospinal fluid. It can crosses the placenta.
Biotransformation:
Mainly hepatic through 4 metabolites which account for approximately 15% of an oral dose, found in urine metabolites and are active but activity is less than the unchanged ciprofloxacin which is about 50%
Elimination :
– renal: approximately 50% is excreted unchanged in urine glomerular filtration and active tubular secretion, excretion is virtually complete within 24 hours.
– Biliary & faecal: small amounts are excreted in  bile and about 20% is excreted in feaces with in 5 days.
– Dialysis: haemodialysis or peritoneal dialysis removes only a very small amount, less than 10% Half life
Normal renal function is about 4 hours, with impaired renal functions it is slightly prolonged for about 6 to 8 hours.
Serum. blle and urlne concentrations:
Time to peak serum concentration in fasting is about 1 to 2 hours, normally with food intake it is about 2 hours, mean peak serum concentration after an oral dose of 250 mg is 1.2 to 1.42 mcg/ml, after 500 mg is 2.4 to 2.6mcg/ml and after 750 mg is 3.4 to 4.3 mcg/ml during the first 2 hours after the administration of a 250 mg dose.
Indications & Usage:
– respiratory tract infections: pneumoniae due to klebsiella, haemophilus, proteus, E-coli, enterobacter, pseudomonas, pneumococci and staphylococci.
Acute and chronic bronchitis and bronchopneumonia.
– skin and soft tissue infection. – Genital infections including prostatitis and cervicitis.
– Bone infections. – E.N. T. infection.
– Gastrointestinal infections including that of the biliary tract, diarrhea and salmonellosis.
– Septicemia. – Peritonitis.
– Pre and post operative as a prophylactic.
Contra-Indications:
– patients known to be hypersensitive to quinolones and nalidixic acid ..
• Not to be administered to subjects under the age of 18 year.
– Pregnancy and breast feeding.
– Hepatic function impairment, renal impairment and C.N.S. disorders.
Side Effects:
A few isolated cases reporting C.N.S. stimulation, crystalluria, hypersensitivity reactions in the form of skin rash, itching or swelling of face and neck have occurred. Photosensitivity and visual disturba~~s may occur during treatment. Patients may exhibit some dizziness, headache, diarrhea, nausea, vomiting
and an unpleasant taste. Sleep troubles are rare and do not necessitate the discontinuation of treatment but should be attended by a physician.
Drug In eractlons:
– urinary alkalizers may increase the incidence of crystalluria
– Aluminium and magnesium anti _ acids as well as sucralfate may Interfere With the absorption of ciprofloxacin.
– Ciprofloxacin causes a delay in the hepatic metabolism of theophylline and caffeine.
– Probencid decreases the tubular secretion of ciprofloxacin.
Dosage and Administration:
Doses are administered on an emptystomach and tablets are swallowed together With a glas of water.
–  Bone, respiratory tract and skin infections: 500-750 mg b.i.d.for 14 days.
– G.IT. infections' 500 mg b.i.d.for 5 -7 days.
– Urogenital infections. 250-500 mg b.i.d.for 1-14 days.
– Gonococcal infections' 250-500 mg as a single dose.
– Other systemic infections: 250 – 500 mg b.i.d. for 10 days.
– Usual adult prescribing limit dose is 1.5 gm daily.
Adequate fluid intake-should be considered during-the-~ourse of treatment. . .
In renal failure or in impaired renal function J dosage Intervals should be adjusted according to the
following:
Creatinine C.ml/min
50 ml/min
30 – 50 ml I min
5 – 29 mll min
Haemodialysis
Dose
Adult dose
250-500 mg b.i.d.
250-500 mg every 18 hours
250-500 mg every 24 hours
Packing:
– Boxes of 10 tablets of each of Mifoxin 250 & 500 mg.
– Medicament is a product which affects your health, and its consumption contrary to instructions is dangerous for you.
– Follow strictly the doctor's prescription, the methcxl of use and the instructions of the pharrnedstwro sales the medicament.
produced by :
MISR CO. FOR PHARM. INO S,A.E,