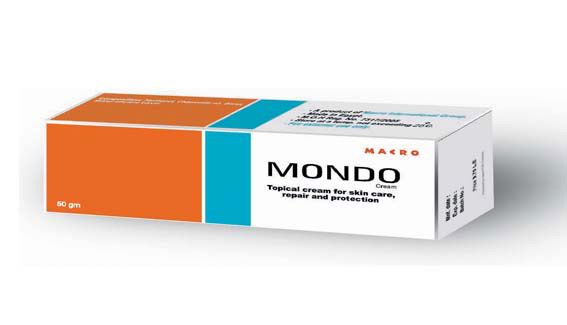 MONDO
Cream
Topical cream for skin care,
repair and protection
Composition:
Panthenol
Borax
Chamomile oil
Methyl ethylene Glycol
Mondo Properties:
Mondo: Provides the skin with optimum moisture level needed to enhance healing process.
mondo:the 1st repair care for damaged and irritated skin that  enhances epidermal reconstruction.
Mondo: Leaves the skin moist, silky, smooth and protected.
Mondo: Accelerates the rate of healing and skin cells regeneration.
Mondo: Has anti-microbial properties that protect skin against bacteria, fungi, yeast & germs.
Mondo: Protects sensitive and easily irritated skin.
Mondo: Has anli-histaminic, astringent and anti-pruritic effects.
Mondo: Has skin conditioning and lubricating peocertes.
Mondo: Cares with cases of napkin erythema and protects against diaper dermatitis.
Mondo: Cares with cases of nipple fissures.
Mondo Contains:
Panthenol (Pro-vitamin B5)
It cctrmraes metabolic processes of the skin and epithelial tissues and has anti-irritant properties that sooth irritated skin. Panthenol stimulates migration, proliferation and protein synthesis in the dermal fibroblasts into the wound area that enhance cells growth and tissue repair and stimulates epithelization and helps to heal minor wounds. It plays a role in the regenerative processes of the skin such as wound healing and epithelization.
Panthenol has very efficient emollient, humectant and moisturizing properties.
Borax
Borax soothes itching and burning sensation, eases irritation of the skin, cteanses the affected areas and speeds uo healing. It shows sionificant fungistatic and bacteristatic properties. Borax shows a significantanti-microbial activity against Pseudomonas, Enteric bacteria & Staphylococci bacteria
so it kills persistent yeast infection on the skin.
Chamomile Oil
Chamomile oil alleviates irritation, has a stringent and analgesic properties. Due to the presences of chamazulene it has anti-oxidant, soothing, anti-itching and anti-histaminic effects. 11 contains alpha-bisabolol that promotes
granulation and is a great tissue regenerator. Chamomile oil has antimicrobial activity against some skin pathogens as Staphylococcus & Candida species.
Methyl Ethylene Glycol
Is a strong humectant that hydrates skin layers, and shows bactericidal and fungicidal properties.
Uses:
Mondo provides the skin with optimum moisture level needed to enhance healing process.
Mondo has skin conditioning and moisturizing properties that ensure skin care & protection.
Mondo accelerates the rate of healing and skin cells regeneration.
Mondo Is advlsabl. In cases of:
– Diaper rash.     – Nipple fissure.
– Ups fissure.     – Skin irritation, itching & intertrigo.
– Sun bums & minor injuries.     – Dry skin & xerosis.
– Irritations & complications associated with elderly incontinence.
Directions:
– A suitable amount of Mondo cream 10 be applied on the skin and rubbed gently tor 2-3 Times daily.
– In cases of Nipple fissure in lactating mothers, apply directly atter feeding & to be washed before next feeding
time.
Precautions:
– For external use only.
– Avoid contact with eyes.
– Keep out of reach 01 children.
Package:
A tube of 50 gm content.
Storage:
Store at a temperature below 25″C, protected from light.
A product of :
Macro International group