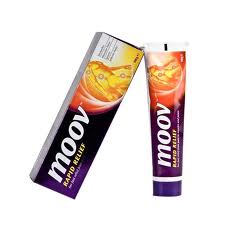 Moov rapid relief
for fast relief from pain in muscles and joints
MOOV OINTMENT :
is a multi- action topical ointment for joint pains, inflammation, sprain, and backache.
COMPOSITION:
Oil of Wintergreen (15.0% w/w).
Menthol (5.0% w/w). Turpentine Oil (3.0%w/w)
Eucalyptus Oil (2.0 % w/w) Ointment base Qs to 100% w/w
INDICATIONS:
Joint pains, inflammation, sprain and backache.
DIRECTIONS FOR USE:
Massage two pulpfuls to the affected area until completely absorbed, 2-3 times daily
CONTRAINDlCATIONS, WARNING AND PRECAUTION:
For external use. Do not apply on injured part, wounds and cuts.
Keep away from reach of children.
In case of allergic reaction stop usage of product and consult physician. Do not swallow.
STORAGE CONDITION:
Store below 250 C
DO NOT FREEZE
MFG. BY: PARAS PHARMACEUTICALS LIMITED
1/7, G.l.D.C. Estate, Kalol(N.G.), India – 382725.
Regd. Office: Paras House, Ahmedabad – 380014.
Contact for further details-.
This is a medicament :
Medicament is a product which affects your health, and its consumption contrary to instructions is dangerous for you. Follow strictly the doctors prescription, the method of use and the instructions of the pharmacist who sold the medicament.
– The doctor and the pharmacist are experts in medicines, their benefits and risks.
– Do not by yourself interrupt the period of treatment prescribed.
– Do not repeat the same prescription without consulting your doctor.
– Keep all medicaments out of reach of children.
PRODUCED BY :
Council of Arab Health Ministers. Union of Arab Pharmacists.