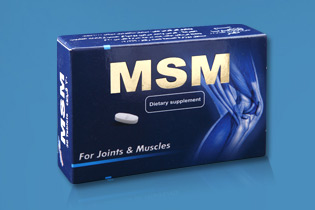 Msm tablets for joints and muscles
Composition:
Methyl Sulphonyl Methane 1000 mg per tablet.
Properties:
Sulfur is an essential element for the stabilization of the extracellular matrix of connective=tissue a-n in proteoglycan synthesis, low concentrations of organic
sulfur in human bodies have been linked with a large number of degenerative diseases specially in rheumatic and osteoarthritic patients.
MSM (Methyl Sulphonyl Methane), an important bioavailable source and transport molecule of naturally occurring sulfur provides muscles, tendons, ligaments, cartilage and collagen with the sulfur needed to maintain the structure of proteins through formation of the disulphide bonds, thereby holding connective tissue together. Sulfur in Glutathione, the scavenger responsible for the elimination of toxins and free radicals, is capable of avoiding muscle cramps particularly upon exerting extra effort and in patients
who experience cramps at night or after long periods of inactivity. MSM aids in the production ofimrnunoglobulins, which maintain the immune system.
Indications:
Supports functions of muscles and joints.
Dosage:
One tablet to be taken twice daily or as directed by the physician.
Contraindications:
None are encountered.
Side effects:
MSM is well tolerated, with a high safety profile. Because of its inertness, it is non allergic and has no interfering or undesirable pharmacological effects .
Storage:
Store in a dry and cool place preferably below 30°C.
Package:
Pack of 30 tablets.
Manufactured by :
EVA Pharma for Pharmaceuticals & Medical Appliances, Egypt