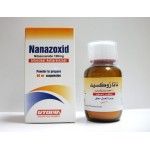 Nanazoxid
Intestinal Antiprotozoal
Powder for Oral Suspension after Reconstitution
Company Name:
Medizen pharmaceutical Industries for Utopia Pharmaceuticals.
Composition:
Each 5ml suspension contains:
Active Ingredlems:
Nitazoxanide 100mg (after reconstitution).
Inactive Ingredients:
Sucrose, pregelatlnized starch, carboxy methyt cellulose sodium, FD & C red citric acid, acacia gum, microcrystalline cellulose, xanthan gum, sodium benzoate and strawberry flavor.
Description:
Nanazoxid 100mg for oral suspension contains the active ingredient nitazoxanide; a synthetic Intestinal antlprotozoal agent for oral administration. Chemically, nitazoxanlde Is 2-acelytoxy-N-(5-nItro-2-thlazo!yt) benzamlde.
Clinical Pharmacology:
Absorption: Following oral administration of Nanazoxld 100mg oral suspension, maximum plasma concentrations of the active metabolites tizoxanide and tizoxanide glucuronide are observed within 14 hours. The parent nitazoxanide Is not detected in plasma. When Nanazoxld1 OOmg for oral suspension was administered with food, the AUC. of tizoxanide and tIzoxanlde glucuronide Increased by about 45-50% and the Cmax increased by </=10%.
Distribution: In plasma, more than 99% of tizoxanide is bound to proteins.
Metabolism: Nitazoxanide Is rapidly hydrolyzed to an active metabolite. tizoxanide (desacetyl- nitazoxanide). TIzoxanide then undergoes conjugation, primarily by glucuronidation.
Elimination: TlZoxanide is excrated in the urine, bile and faces, and tizoxanide glucuronide is excrated In urine and bile. Approximately two-thirds of the oral dose of nitazoxanide is excrated In the faces and one-third in the urine.
Mechanism of Action:
The antlprotozoal activity of nitazoxanide is believed to be due to interferance with the pyruvate ferredoxin oxiOOreilUctase (PFOR) enzyme-dependent electron transfer reaction which is essential to anaerobic energy metabolism.
Indications and Usage:
Nanazoxld for Oral Suspension Is indicated for the traatment of dlarrnea caused by giardia lamblia or cryptosporidium parvum.
Dosage and Administration:
Indication : Treatment of diarrhea caused by Giardia lamblia or Cryplosporidium parvum
Age :                             Dosage                                                         Duration
1-3                     5 ml of Nanazoxld 100mg for oral
suspension (100 mg nitazoxanide)                      3 days
years                   every 12 hours with food.
10 ml of Nanazoxld 100mg for oral
4-11                  suspension (200 mg nitazoxanide)                      3 days
years                      every 12 hours with food.
>/=12              25 ml of Nanazoxld 100mg for oral
suspension (500 mg nitazoxanide)
years                        every 12 hours with food.
Overdosage:
Information on nitazoxanide overdosage is not available.
Contraindications:
Nanazoxld 100mg for oral suspension is contraindicated in patients with a prior hypersensitivity to nitazoxanide or any other ingredient in the fonnulatlons.
Adverse Reactions:
The most frequent adverse events reported were:
Abdom nal pain, diarrnea, vomiting and headache.
Drug Interactions:
T1zoxanlde Is highly bound to plasma protein (>99.9%).lherefore, caution should be used when administering nitazoxanide concurrently with other highly plasma protein-bound drugs with narrow therapeutic indices as competition for binding sites may occur (e.g., warfarin).
Pregnancy & lactation:
No adequate and weli-controlled studies in pregnant women.
It Is not known whether nitazoxanide is excrated in human milk. Because many drugs are excreted In human milk, caution should be exercised when nitazoxanide is administered to a nursing woman.
Precautions:
– Nitazoxanlde must be administered with caution to patients with hepatic and biliary diseases, to patients with renal diseases, and to patients with combined renal and hepatic disease.
– Diabetic patients should be aware that the oral suspension contains 1.2 grams of
Sucrose per 5 mL.
Package:
Garton box contains-iln-amber ijlasa-(type-a )-bottle contaioing-powcter for oral suspension to make. 60 mI when reconstituted + a measurino oiastic CUD + insert leaflel
Storage:
– Keep out of raach of childran.
– Keep at a temperature not exceeding 30°C.
After reconstitution; keep for one week at a temperature not exceeding 30·C.
Infonnatlon for Patients:
NanazoxJd 100mg for oral suspension should be taken with food.
Diabetic patients should be aware that the oral suspension contains1.2 grams of
sucrose per 5 ml.
Directions for Mixing Nanazoxld for Oral Suspension:
Prepare a suspenalon at time of dispensing as follows:
– The amount of water required for preparation of the suspension is 48 ml.
– Tap bottle until all powder flows freely.
– Add approxJmately one-half of the total amounts of water required for reconstitution and shake vigorously to suspend powder.
– Add remainder of water and again shake vigorously.
– The container should be kept tightly closed, and the suspension should be shaken well before each administration.
– The suspension may be stored for 7 days. after which any unused portion must be discarded.
Produced by :
Medizen Pharmaceutical Industries for utopia Pharmaceuticals.