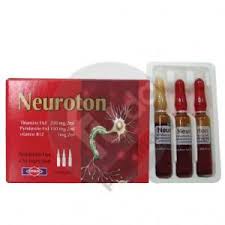 Neuroton ampoules
Composition :
Each 2 ml ampoule contains
Active ingredients:
Vitamin B1 (Thiamin HeI)                       200 mg
Vitamin B6 (Pyridoxine HeI)                  100 mg
Vitamin B12 (Cyanocobalamin)              1 mg
Inactive ingredients:
Lidocaine HeI, Monothioglycerol, Sodium Hydroxide & Water for injection
INDICATIONS:
Neuroton is indicated for prevention and treatment of deficiency of vitamins B1, B6 or B12 and their prophylaxis e.g. in neurological and other disorders associated with disturbance of the metabolic functions influenced by B complex vitamins
CONTRA-INDICAITONS:
Neuroton injection shall not be used in cases under suspicion of hypersensitivity to any of the above ingredients.
DOSAGE AND DIRECTIONS FOR USE:
ampoules are preferably injected intramuscularly (deep intragluteal). In severe cases,
one ampoule is given daily until the acute symptoms subside. For milder cases and follow up therapy 2 to 3 ampoules per week.
INTERACTIONS:
Patients treated with I-Dopa should not take high
doses of pyridoxine (Vitamin B6) and thus
Neuroton , as pyridoxine reduces the effects of L-Dopa.
SIDE-EFFECTS:
– In individual Gases; sweatmg,–tachycardia-and reactions accomplishes with itching and urticaria have been described. In rare cases hypersensitivity reactions may occur.e.g. after parenteral application of vitamin B1 exanthemas, difficulties to breathe, and conditions of shock may occur.
– Individual cases of drug induced eczema and urticaria have been' reported after parenteral vitamin B12 application.
HOW SUPPLIED:
Packs of 3 or 6 ampoules of 2ml.
STORAGE INSTRUCTIONS:
store below 25 c
Intermediate Manufacture By :
Global Pharmaceutical Industries For AMOUN PHARMACEUTICAL Co. SAE.
EI-Obour City, Cairo, Egypt