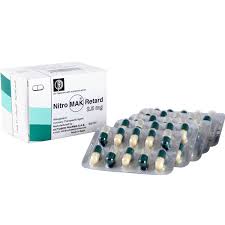 Nitro mak retard 2.5 mg/5 mg
Coronary therapeutic agent
COMPOSITION:
1 capsule of NITRO MAK RETARD 2.5 mg with sustained action contains: Nitroglycerin 2.5 mg.
1 capsule of NITRO MAK RETARD 5 mg with' sustained action contains: NitroglYcerin 5 mg
ACTION:
NITRO MAK RETARD 2.5 mg and 5 mg reduce the haemodynamic load on the heart during a period of 10-12 hours. Oxygen supply is improved and maintained in those myocardial areas where blood circulation has been reduced with consequent improvement in work capacity. Nitroglycerin has been fully established as a reliable treatment of coronary circulation disorders. The special galenic form of preparation of NITRO MAK
RETARD 2.5 mg and 5 mg, based on continuous release from diffusible pellets enables maximum benefit from the active ingredient both as a preventive and in long-term treatment.
INDICATIONS:
Long-term treatment and prevention of coronary circulation disorders; angina pectoris; rehabilitation after myocardial infarction.
DOSAGE :
Depending on the degree of severity of the disease and unless otherwise prescribed by a physician, morning and evening one capsule of NITRO MAK RETARD 2.5 mg or 5 mg to be swallowed whole with liquid.
SIDE EFFECTS:
The side effects sometimes observed with normal nitroglycerin preparations (headache, fainting & nausea) are reduced in the long-term use.
CONTRA-INDICATIONS:
Shock & hypotonic collapse conditions.
INTERACTIONS WITH OTHER DRUGS:
Co-administration of nitric oxide donors e.g the active ingredient in
NITRO MAK RETARD and sildenafil (VIAGRA)" may considerably potentiate the blood pressure lowering effect.
PRESENTATION:
Capsules.
D0 not store above 30°C. Keep dry.
Produced by:
October Pharma S.A.E.
6 October City – Egypt