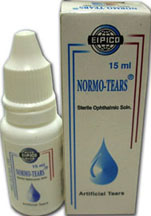 For the Medical profession only
Normo-Tears
Composition:
Each 1 ml contains:
Oextran70                                                        lmg
Hydroxy propyl methyl cellulose         3mg
Benzalkonium chloride                              0.02 mg
Properties:
Normo- Tears is a unique fonnulation with active ingredients providing optimal
viscosity properties and proper comeal and conjunctival wetting to achieve rapid
relief and comfort of signs and symptoms of dry eye.
IndJcations:
– Relief of irritation and burning due to dryness of the eye.
– Relief of discomfort due to exposure to wind or sun.
Dosage and AdInlnistration:
Instill 1 or 2 drops in the affected eye (s), as needed.
Precautions:
– if irritation persists or increases, discontinue use, and consult a doctor.
– Contad lenses should be removed prior to administration of Normo- Tears. Lenses may be reinserted 15 minutes following administration of the drug.
– Patients should avoid allowing the tip of the dispensing container to contact the eye(s) or surrounding structures to avoid bacterial contamination.
– If Normo- Tears ~ution changes colour or becomes ck>udy, don't use.
– Discard one month after opening.
Side Effects:
No side effects have been reported.
Storage:
Store at temp. below 25°C.
How Supplied :
Plastic dropper bottles of 15 ml each.
Dat. of revtslon:
April 2008
product of :
EGYPTIAN INT. PHARMACEUTICAL INDUSTRIES CD.
E.LP.L CO.
10th OF RAMADAN CITY ,INDUSTRIAL AREA B1,P.O.BOX;149 TENTH, EGYPT