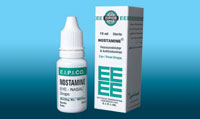 Nostamine
Eye and Nasal Sterile Soln.
Vasoconstrictor- Antihistaminic
Compostion:
Each 1 rnl contains :
Naphazoline HCI                                  0.5 mg
Chlorpheniramine maleate              0.5 mg
Isotonic to                                              1.0ml
Properties and effects:
NOSTAMINE contains naphazoline Hcl which has a potent quickvasoconstrictor
effect And chlorpheniramine Maleate has a marked anti-histaminic effect.
NOSTAMINE produce a rapid and prolonged decongestion of the nosal mucosa
congunctive.
Indications:
Nose: Common cold, symptomatic treatment ef rhinitis, sinusitis and Allergic
rhinitis
Eye: spring catorrh and other allergic mainifestation of the eye.
Contra-Indications:
Narrow angle gloucoma
Side effect:
Uncommon and may occur mild transient stinging with frequent application.
Administration:
Nose: 2 drops 4 times daily in each nostril.
Eye: 1-2 drops 3 – 6 hours.
Pack:
Bottles of 1 Oml & lSml.
produced by :
EGYPTIAN INT. PHARMACEUTICAL INDUSTRIES CO.
E.I. P.I.CO.
10th OF RAMADAN CITY –  EGYPT