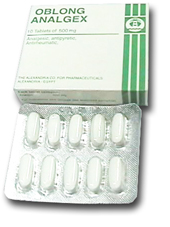 Oblong Analgex Tablets
Composition:
Each tablet contains:
Analgin     500 mg
Pharmacokinetics:
Analgex is absorbed from the gastrointestinal tract, it has
a half life of about 1 to 4 hours.
Pharmacodynamics:
Analgex possesses marked analgesic, anti-inflammatory &
antipyretic, it has the advantage of being rapid in action
Indications:
Analgex tablets can be used in the following cases. Headache, neuralgia, myalgia, arthralgia & pre and post operative pain.
Side Effects:
Agranulocytosis may occur In cases of treatment with large
doses of the preparation
Allergy or cross sensitivity between aspirin and analgin .
Precautions:
Analgex tablets must be cautiously administered as the risk
of aqranulocytosts IS possible and may be sudden and
unpredictable
Contra indications :
Analgex IS contraindicated with preparations containing
aspirin. chloralhydrate . iodine or tannic acid.
Dosage:
Unless otherwise prescribed by the physician:
1 – 2 tablets can be administered up to 3 times daily
Package:
Pack contains 1 strip x 10 tablets.
ALEXANDRIA Co FOR PHARMACEUTICALS
ALEXANDRIA – EGYPT