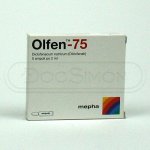 Olfen  75 DA Depocaps ™
Anti_inflammatory-Analgesic-Antirheumatic
Composition :
Each Depocaps contains:
Diclofenac potassium        16 mg       (as immediate-release pellets)
Diclofenac Sodium (BP)     59 mg    (as sustained-release pellets)
Properties :
Olfen-75 DA Depocaps is a non-steroidal anti-inflammatory agent which contains a well designed combination of diclofenac potassium in "immediate- release pellets" and diclofenac sodium in "sustained- release pellets", to achieve a double action. Olfen-75 DA Qepocaps contain many small units of so called "pellets" (immediate-release & sustained-release) within a hard gelatin capsule from which the active ingredients are released in a programmed manner. Diclofenac potassium in immediate-release pellets is quickly absorbed, to give a very rapid onset of action suitable for the treatment of painful and inflammatory conditions in which the prompt pain relief is necessary. Diclofenac sodium in sustained-release pellets which exhibits marked anti- inflammatory, antirheumatic properties is released over a long period of time, so that a sustained pharmacological action is achieved
Olfen-75 DA Depocaps is thus suitable for the treatment of painful and inflammatory conditions with quick relief of both spontaneous pain and pain on movement.
An additional advantage of this dosage form is that, the active ingredients do not irritate the gastrointestinal mucosa as the pellets scatter over a large area, this  results in more reliable tolerance. Mepha's special technologies and know-
how of Depocaps combine the following
benefits:
– Stable blood levels within the therapeutic range over longer periods of time.
– Avoidance of unnecessarily high concentrations of active substances.
– Improved bioavailability.
Indications :
Olfen – 75 DA Dep6caps used in inflammatory -and-deqenerative-artieular
and extra- articular diseases of joints, muscles, joint capsules, bursae, tendons,
tendon sheaths and vertebral column such as:
1- Osteoarthritis.
2- Rheumatoid arthritis.
3- Ankylosing spondylitis.
4- Spondyloarthritis.
5- Chronic back disorders.
6- Tendovaginitis.
7- Pain due to neuritis.
Recommended dosage and administration :
– Children: This dosage form is not suitable for children under 12 years of age.
– Adults: One to two Olfen-75 DA Depocaps should be taken per day, unchewed with water, before meals.
Contraindications :
Olfen-75 DA Depocaps is contraindicated in case of active peptic ulcer, pregnancy and lactation. Hypersensitivity to acetyl salicylic acid or other non-steroidal anti- inflammatory agents, severe disorders of liver function or haemopoiesis disorders. ypel'Sensitivity-to tl:le-active-subetenoe
Olfen-75 DA Depocaps, as other non-steroidal anti-inflammatory, is contraindicated in patients with a history of asthmatic crisis, urticaria or acute rhinitis due to salicylates or other prostaglandin synthetase inhibitors.
Warnings and precautions :
– Patients with history of peptic ulcer, unexplained gastrointestinal disorders,
liver and kidney impairment, high blood pressure and elderly patients require
attentive medical supervision.
– Patients suffering from asthma, hayfever, nasal polyps, chronic airways infections, hypersensitivity to analgesics and antirheumatic drugs of all types are liable to asthma attacks when using the product (the so called analgesic induced asthma.)
Side effects :
Gastrointestinal disorders, (such as nausea, vomiting, diarrhea & abdominal
pain). These side effects are-generally mild amr- usually disappear after a few days. Hypersensitivity reactions such as skin rash and pruritus, asthma attacks,
tendency to oedema may arise.
Drug Interactions :
– The concomitant use of Olfen-75 DA Depocaps with lithium or digoxin
products, increases their levels in the blood.
– In case of treatment with potassium-sparing diuretics, monitoring of serum potassium is required, non-steroidal antirheumatics can lead to an increase in potassium values.
– The use of corticosteroids or other anti-inflammatory agents increases the risk of gastrointestinal bleeding.
– It may decrease the action of diuretics
Presentation :
Packings of 10 depocaps.
Manufactured by :
Pharma Egypt S.A.E aceuticals.
Medical Union PharmMepha
Under supervision of Mepha Ltd. Basel – SWITZERLAND