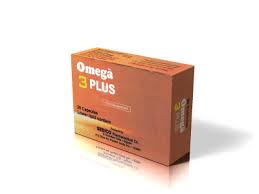 Omega – 3 Plus
Soft gelatin capsules
Composition:
Each soft gelatin capsule contains:
Fish Oil                                                                                   1000 mg
( Contains Eicosapentaenoic acid minimum(EPA) 13% & Docosahexaenoic acid minimum (DHA) 9% )
wheat germ oil (Linoleic Acid 52 – 59 %)                         100 mg
Indications:
Dietary supplement (as a source of Omega-3).
Dose:
One Capsule 3 times daily or as directed by the physician.
Warnings & Precautions:
– To be used under medical supervision.
– Keep medicine out of reach of children.
– Contraindication with hypersensitivity to omega-3 acid ethyl
esters, fish allergy.
– Used with caution in patients with coagulopathy or taking
anticoagulant drug.
Packing:
-20 soft gelatin capsules packed in two ( ALlPVC) strips in a carton box with pamphlet.
Storage:
– Keep at temperature not exceeding 30° C in dry place.
– Dietary Supplements are not intended to diagnose, treat,
cure or prevent disease
Produced by :
South Egypt Drug Industries Company  SEDICO"
6 October City – Egypt