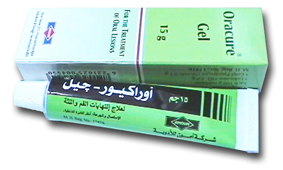 oracure – gel                                                                       For the Treatment of Oral Lesions
Composition :
Each 100 g contains:
Lidocaine HCI                            2.0g.
Cetylpyridinium chloride      0.1 g.
Properties :
Lidocaine easily penetrates the tissues and exerts apowerful anesthetic action. Cetylpyridinium chloride has a local antiseptic effect against Gram +ve and Gram -ve bacteria. It is also effective  against many fungi and viruses Oracure -Gel is presented in a gel base  to ensure a proper adhesion to the mucous membrane.
Indications :
painful and Inflammatory.Jesions of the oral mucosa, gums and lips, such as:
–  Aphthus ulcer                     – Stomatitis
– Gingivitis                               –  Denture sores
–  Teething pains                    –  After scaling
– After dental extraction
Contraindications :
None
dosage:
Unless otherwise prescribed by the physician, Oracure-Gel should be applied to the affected area 3-4 times daily.
How Supplied
Tubes of 15 & 30 g.
Keep all medicaments out of reach of children
Product of:
AMOUN PHARMACEUTICAL CO.SAl
EI-Obour City, Cairo, Egypt.