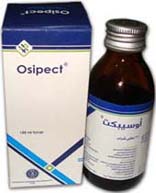 Osipect Syrup
Composition :
Each teaspoonful ( 5 ml ) contains:
Glyceryl guaiacolate                50mg
Potassium citrate                       50mg
Terbutaline sulphate                1.5 mg
Diphenhydramine HCI            14 mg
Properties:
Osipect Syrup is characterized by combining four active ingredients which act
synergistically to provide simultaneous expectorant, bronchodilator, and antihistaminic effects.
– Glyceryl guaiacolate ( guaiaphenisin is a powerful expectorant for productive cough, it acts by increasing the volume and thus reducing the viscosity of tenacious sputum. It increases the efficiency of ciliary action to remove accumulated secretions from the trachea and bronchi .
– Terbutaline is one of the safest and most effective selective B2- agonists that relief bronchospasm associated with cough and so facilitate expectoration .
– Diphenhydramine HCI is a potent antihistaminic agent with anticholinergic effects that is useful for symptomatic treatment of cough due to allergy.
– Citrates is a common ingredient in cough mixtures for its expectorant activity
Indications & Usage:
Osipect syrup is indicated in the treatment of productive and non-productive cough associated with acute or chronic respiratory diseases such as:
– Acute and chronic bronchitis.
– Asthmatic bronchitis and other conditions associated with reversible airway
obstruction .
– Cough associated with respiratory tract infections and related conditions as common cold, sinusitis and pharyngitis especially when these conditions are complicated by tenacious mucus .
– Pulmonary emphysema.
Contra- indications:
– Known hypersensitivity to any of the drug components.
– Neonates and premature infants.
 Side effects:
Osipect syrup is well-tolerated out rarely transient and rfliT!tside effects may occur with targe doses :
– Gastrolntestinal discomfort, nausea and vomiting.
– Fine tremors, nervous tension and headache.
– Peripheral dilatation and palpitations.
Drug interactions:
– Concurrent use of tricyclic antidepressants may potentiate the action of terbutaline on the vascular system.
– Concomitant administration of terbutaline and other beta 2 agonists with oorticosteroids, diuretics, or xanthines increases the risk of hypokalaemia.
– Terbutaline can decrease serum concentrations of digoxin.
– The sedative action of diphenhydramine may be potentiated by CNS depressants including alcohol, barbiturates, hypnotics , opioid analgesics and anxiolytic sedatives.
– Anticholinergic drugs may potentiate diphenhydramine's antichlolinergic side effects.
Warnings and precautions:
Osipect syrup should be used cautiously in the following cases:
– Hyperthyroidism.
– Arrhythmias , hypertension, and other cardiovascular diseases.
– Pregnancy and lactation.
Dosage and administration:
1-2 teaspoonful 3 – 4 times daily.
Packing:
Bottle of 120 ml .
Storage:
Store below 30'C.
produced by :
chemical industries development (CID) – Giza – A.R.E