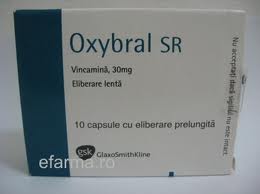 Oxybral
Vincamine
Composition:
Each SR Capsule contains 30 mg of vincamine in a sustained release pellet form.
Each 2 rnl ampoule contains 15 mg of vincamine
Each Srnl syrup contains 10 mg of vinca mine
Pharmaceutical Form:
Tablets, Ampoules & Syrup
Pharmacological Action:
Oxybral has a selective vasoregulating action.
Pharmakinetics:
Oxvbral has aselective vasoregulating action on cerebral circulation adapting cerebral blood flow to metabolic needs. Oxybral enhances cerebral metabolism by increasing oxidative decomposition of glucose, increasing energy production leading to an increase in general activity of the human being. Oxybral increases oxygen capture and utilization from circulating blood by hypoxic neurons. Oxybral decreases and equanzes hemodynamic resistance of the cerebral vascular bed. Oxybral has a unique normocirculant and oxygenating effects on the cerebral
circulation and neurons. Vincamine (oxybral) has been observed to show excellent tolerability with no biological toxicity, whether baematoloqical. hepatic or renal. All the above properties improve and restore cerebral functions and circulations. Oxybral has multiple actions towards improvements of the cerebral metabolism and functions especiatlvin children.
Indication:
Oxybral is indicated to normalize and adapt the cerebral blood flow according to the metabolic needs and in turn improves, regulates and maintains all the brain functions, reflecting better performance physically and intellectually.
– Cerebral disorders:
Age related in the elderly as In cases of:
-Memory troubles
– Concentratlcn disorders
– Attention & awareness disorders
Deqenerative trophic disease:
-Diabetes
-Atheroscterosis
After acute cerebralacctdents:
-Post- traumatic
– Postapoplecttc
– Hypertensive encephejopathv
* Dizziness. vertigo. vascular headache and migraine
* Hearing troubles of vascular origin
* Visual troubles of vascular origin
* Psychiatric disorders
-Space time orientation
-Emotional Disturbances
-Cerebrovascutar disorders espectauv cerebral Ischaemia
* improvement of the: intellectual capacity in children and adolescents
Dosage & Administration:
Dose: in Adult:
1 to 2 teaspoonful three times daily
1 capsule: twice daily
1 ampoule once or twice daily by IM or slow IV infusion
Dose in children:
Half teaspoonful three times daily
Half ampoule twice daily by IM or slow IV infusion
N.B. not to be used by direct IV.
Contra-Indications:
In cerebral neoplasms
Safety during pregnancy is not yet established
Hypersensitivity to any component of the preparation.
Side Effects:
No text
Drug Interaction:
No text
Pregnancy & lactation:
Safety during pregnancy is not yet established.
Precaution & Warnings:
No text
Package & Storage:
SR capsule: Strips of 10 capsules, in boxes of I, 2 or 6 strips
Ampoule: Box of 5 ampoules
Syrup: Bottle of 60 ml or 120 ml.
Store below 30· C for Capsule & Syrup.
Store below 25·C for Ampoule:
Instruction to Patient:
Keep out of reach of children.
For Capsules & Syrup:Manufactured by:
GlaxoSmithKline S.A.E. – EI-Salam City – Cairo – A.R.E.
For Ampoule:Manufactured by:
Sigma-Tec Pharmaceutical industries – Egypt – S.A.E.