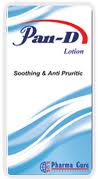 Pan – D
Lotion
Soothing & anti pruritic
Composition:
Each 100 ml contain:
Zinc oxid               10 gm
Camphor              0.1 gm
Menthol               0.2 gm
Glycerol                10 gm
Properties:
Pan-D is lotion for local application effective for Wide variety of skin disorder
Zinc:
Has astringent. Protective & soothing effect .
Menthol &Camphor:
Are topical antipruritic & anti infective agent when applied externally they dilate the skin blood vessels causing soothing and anti pruritic effect .
Glycerol:
which is an emollient and humectant that help to maintain the skin moist
Indicafion:
Pan-D lotion is applied externally in case of :
1- Inflammatory skin reaction
2- Redness and roughness
3- Mild sun burn
4- Sweat rash
5- Skin irritation associated with insect bites
Caution :-
– For external use only.
– To be applied to the intact skin.
– It should be kept away eyes and mucous membrane.
Side effect: –
Rare hypersensitivity reaction
Dosage and application:
– Shake well before use.
– A thin layer is to be applied to the skin with gentle rubbing twice daily.
Package :-
Bottles of 120ml .
Storage: –
-Keep the bottle tightly closed at a temperature not
exceeding 30 DC.
– Keep out of reach of children.
produced by :
pharma cure