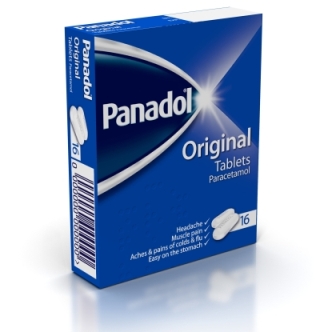 Panadol
Film Coated Tablets For relief of pain and fever (analgesic/antipyretic)
Pharmaceutical form:
film coated tablets
Description:
Each film coated tablet contains :
Active ingredients: paracetamol 500 mg
Inactive ingredients:
Tablel core: Maize starch, pregelatinised starch , povidone,
potassium sorbate, tolc. stearic acid
Film coat: Hypromellose , Glycerol triocetate
Indications:
paracetamol is an analgesic and antipyretic
a) Treatment of mild-to-modetete pain including:
Headache , Migraine , Muscle ache , dysmenorrhoea , sore throat ,
Musculoskeletal pain , Fever and pain after vaccination , pain after dental procedures / tooth extraction , neuralgia , toothache , pain of osteoarthritis
b) As an analgesic & an antipyretic to reduce fever.
Dosage & Administration:
Adults (Including Ihe elderly) and children aged 12 years and over:
Oral administrotion only.
500 m9 t0 1 g paracetamol (1-2 tablets) taken every 4 to 6 hours as required
Maximum daily dose 4000 mg
D0 n0t exceed the stated dose
Should not be Used with other paracetamol containing products
Minimum dosing interval 4 hours.
Children 6 to 11 yeors:
250 mg ta 500 mg paracetamol,
(1/2 – 1 tablet) every 4 t0 6 hours as required
maximum daily dose 6O mg / 1 kg presented in divided doses 0f
10-15 mg /kg throughout the 24 hour period
do not exceed the stated dose
should not be used with other paracetamol containing products
No more than four doses in any 24 hour period.
Minimum dosing interval: 4 hours.
Maximum durotion of continued use without medical advice 3 days
Children under 6 years:
NOt recommended for Children under the age of 6 years
Contraindications:
Panadol tablets are contraindicated in patients with aprevious history of hypersensitivity to paracetamol or excipients.
Warnings & Precautions:
Underlying liver disease increases the risk 0f paracetamol-related
liver damage Patients who have been diagnosed with liver or kidney impairmenl must seek medical advice before taking this medication. if symptoms persist, medical advice must be sought
Keep out 0f sight and reach 0f children.
Interactions:
The onticoagulant effect of warfarin and other coumarins may be enhanced by prolonged regular daily use of paracetamol with
increased risk of bleeding occasionl doses have no significant effect. Paracetamol may increose chlaramphenicol concentratians
the likelihood of paracetamol toxicity may be increased by the concamitant use of enzyme inducing agents such as alcohol or anticonvulsant drugs
Pregnancy & Lactation:
Fertility: No relevant data available
Pregnancy: Human and 0nimal studies with paracetamol have not identified any risk to pregnancy or embryo foetal development
Lactation:
Human studies with paracetamol have not identified any risk t0 lactation or the breast fed affspring Paracetamol crosses the placental barrier and is excreted in breast milk but not in clinically significant amount as with any medical advice should be sought before using this prpduct in pregnancy
Ability to perform tasks that require judgment, motor or cognitive skills
Overdose:
liver damage is pcssible in adults who have taken 10 g or more
of paracetamol Ingestion of 5 g or more of paracetamol may
lead to liver damage if the patient has risk factors (see belaw)
Clinical Pharmacology:
Mechanism of Action:
Paracetomol is an analgesic and antipyletic .lts mechanism of action is believed to include inhibition of prostaglandin synthesis ,primarily within the central nervous system
Phormacodynamic Effects:
The lack 0f peripheral prostaglandin inhibition confers important
pharmacological properties such as the mointenance 0f the protective prostaglandins within the gostrointeslinal tract.
Paracetamol is,thelelare, particulclly suitoble far: patients with.
a hi~lol)'ofdiseose 0f polientslaking concomitont medication,
whele periphero!prostoglondininhibitiDllwculdbeundesiroble
Pharmacokinetics:
formulatian Pharmacokinetics:
Absorption:
paracetamol is rapidly and almost completely absorbed from the gastrointestinal tract
Dis1ribution: Binding t0 the plasma proteins is minimal at
therapeutic concentrations
Metabolism: paracetamol is metabolised in the liver and excreted in the urine mainly as glucuranide and sulphate conjugates
Elimination: less than 5% excreted as unmodified paracetamol
St0rage:
store at room temperoture not exceeding 30·C, in adry place
produced by :
alexandria co for pharmaceuticals and chemical industries under license gsk Glaxosmithkline consumer