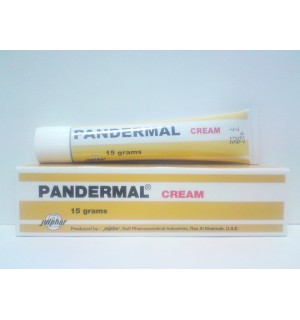 Pandermal
Cream, Ointment
Composition :
Pandermal Cream
Each 100 grams of the cream contains:
Active ingredients:
Nystatin                    10,000,000 Units
Neomycin sulphate 0.416gm equivalent to neomycin O.25gm
Gramicidin                0.025gm
Triamcinolone acetonide 0.1 gm
Excipients: Cetostearyl alcohol, white soft paraffin, liquid paraffin-
cetomacrogol, purified water, methyl paraben, propyl paraben, sodium phosphate, and propylene glycol.
Pandermal Ointment
Each 100 grams of the ointment contains:
Active ingredients:
Nystatin                    10,000,000 Units
Neomycin sulphate 0.416gm equivalent to neomycin O.25gm
Gramicidin                0.025 gm
Triamcinolone acetonide 0.1 gm
Excipients: Liquid paraffin and white soft paraffin.
Properties :
Pharmacodynamic properties
Triamcinolone acetonide is a potent fluorinated corticosteroid with rapid anti- inflammatory, antipruritic and anti-allergic actions. The combined action of the antibiotics neomycin and gramicidin provides
comprehensive antibacterial therapy against a wide range of gram -positive and gram-negative bacteria, including those micro-organisms responsible for most bacterial skin infections.
Nystatin is an antifungal agent, active against a wide range of yeasts and yeast-like fungi, including candida albicans.
Pharmacokinetic properties
Not applicable.
Indications :
Pandermal cream and ointment are indicated in the treatment of corticosteroid sensitive dermatoses complicated by infections due to micro-organisms sensitive to the anti-infectives.
 Dosage :
Adults and children
Apply to the affected area two or occasionally three times daily.
Elderly
Corticosteroids should be used sparingly and for short periods of time, as natural thinning of the skin occurs in the elderly. If, after about 7 days application, little or no improvement has occurred, cultural isolation of the offending organism should be followed by appropriate local or systemic antimicrobial therapy.
This product is not recommended for children under one year of age.
Contraindications :
In tuberculous and most viral lesions of the skin, particularly herpes simplex and varicella. Also in fungal lesions not susceptible to nystatin. In patients with hypersensitivity to any of the components. Should not be used for facial rosacea, acne vulgaris or perioral dermatitis. Should not be applied to the external auditory canal in patients with perforated eardrums. The products should not be used for extensive areas because of possible risk of systemic absorption and neomycin-induced ototoxicity. Should not be used in children
under one year of age.
Precautions :
Adrenal suppression can occur, even without occlusion. The use of occlusive dressings should be avoided because of the increased risk of sensitivity reactions and increased percutaneous absorption. The possibility of sensitivity to neomycin should be taken into consideration especially in the treatment of patients suffering from leg ulcers. Steroid-antibiotic combinations should not be continued for more than 7 days in the absence of any clinical improvement, since in this situation occult extension of infection may occur due to the masking effect of the steroid. Extended or recurrent application may increase the risk of contact sensitisation and shouldbe avoided. If used on ffie face, courses should be limited to 5″ days and occlusion should not be used. Contact with the eyes or mucous membranes should be avoided.
Children older Than 1 year
In infants, long-term continuous topical steroid therapy should be avoided. Courses should be limited to 5 days and occlusion should not be used.
Pregnancy and lactation :
There is inadequate evidence of safety in human pregnancy. Topical
administration of corticosteroids to pregnant animals can cause abnormalities of foetal development including cleft palate and intra-uterine growth retardation. There may. therefore, be a very small risk of such effects in the human foetus. There are theoretical risks of neomycin-induced foetal ototoxicity; therefore the product should be used with caution only when the benefit outweighs the potential risk.
Side Effects :
Triamcinolone Acetonide
The following side effects have been reported. Usually with prolonged usage: dermatologic impaired wound healing, thinning of the skin, petechiae and ecchymoses, facial erythema and telangiectasia, increased sweating, purpura, striae, hirsutism, acneiform eruptions, lupus erythematosus-like lesions and suppressed reactions to skin tests. These effects may be enhanced with occlusive dressings. The possibility of the systemic effects which are associated with all steroid therapy should be considered. These include reversible hypothalarnic-prtuitary-adrenal (HPA) axis suppression, manifestations of Cushings syndrome, hyperglycaemia and glucosuria in some patients. Following
discontinuation, recovery of HPA axis function is generally prompt and complete.
Neomycin : Sensitivity reactions may occur especially with prolonged use. Ototoxicity and nephrotoxicity have been reported. The product should be used with caution and in small amounts in the treatment of skin infections following extensive bums, trophic ulceration and other conditions where absorption of neomycin
is possible. The product should be used with care in patients with established hearing loss.
Gramicidin : Sensitivity has occasionally been reported.
Nystatin : There have been no substantiated reports of sensitivity associated with topical nystatin.
Effects on ability to drive and use machines :
Not applicable.
Preclinical safety data :
No further relevant data.
Incompatibilities :
None known.
Special precautions for disposal and other handling :
None.
Overdosage :
Topically applied corticosteroids can be absorbed in sufficient amounts to produce systemic effects (see side effects).
In the event of accidental ingestion, the patient should be observed and treated symptomatically.
Drug Interactions :
No interactions of any kind have been reported.
Presentations :
Pandennal cream: Tube containing 15 grams.
Pandennal ointment: Tube containing 15 grams .
Store at a temperature not exceeding 30″C.
Keep all medicaments out of reach of the children.
Produced by :
Julphar Gulf Pharmaceutical Industries,
Ras AI Khaimah, U. A. E.