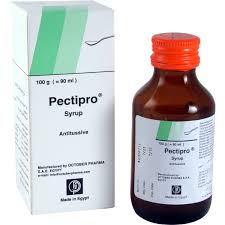 Pectipro" Syrup Antitussive
COMPOSITION:
100 g syrup contain:
Benproperine 300 mg.
as a cation exchange resin complex
INDICATIONS:
As a suppressant for acute and chronic irritative cough of varied origin, as e.g. acute and chronic cough caused by illness of the respiratory tract.
DOSAGE AND APPLICATION:
Unless otherwise prescribed by the physician, take 2-3 times daily, preferably during or after meals:
Children aged 1 – 3 years : 1/2 teaspoonful
Children aged 3 – 6 years : 1 teaspoonful
Children aged 6 – 12 years: 2 teaspoonful
Youth over 12 years and adults: 1 tablespoonful of syrup 3 times daily.
SIDE EFFECTS:
Occasionally may occur: sensation of dizziness, fatigue, weakness, dryness of the mouth and sensation of thirst; heartburn, gastro-intestinal disturbances and skin eruption.
This medicament can, even in the prescribed dosage so much alter the reaction time, that the ability to drive or to work with-machinery is affected.
CONTRA-INDICATIONS:
Hypersensitivity towards benproperine.
For the time being, intake is not recommended during pregnancy and lactation period.
NOTE:
– Pectipro Syrup should not be used beyond the expiry date printed on the package.
– Do not store above 30°C.
– Pectipro Syrup is also suited for diabetics.
– shake before use
PRESENTATION:
Carton box contains glass bottle of 100 gm with pamphlet.
Manufactured by:
October Pharma S.A.E.-6 October City – Egypt