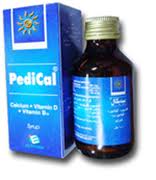 Pedical syrup
Composition :
each 5 ml contains :
calcium glubionate               760 mg
vitamin D3                             400 i u
vitamin B12                            10 mcg
Indications :
dietary supplement contains calcium , vitamin D3 and aitamin B12
Dosage :
unless otherwise prescribed by the physician the usual dose is :
children(2 to 12 years) : 1/2 – 1 teaspoonful daily
adolescents : one teaspoonful daily
pedical can also be taken by adding the dose to milk or water
Precaution and warning :
diarrhea may occur particularly in those receiving high doses . do not give to patients with increased blood galactose. the intake of calcium may influence the absorption and efficacy of some medicinces
avoide overdose and prolonged use .
contraindicated in hypercalcemia and hypercalciuria. for long time with high dose one should monitor calcium in urine and blood avoid over dosage
keep out of the reach of children
Pack :
carton box containing glass bottle of 100 ml with inner pamphlet
Storage :
store at temperature not exceeding 30 o c
Produced by :
Egyphar obour city – egypt