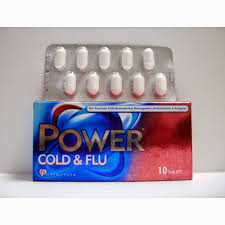 Power Cold & Flu
For the treatment of common cold & inflnenza
Anticatarrhal, Decongestant, Antihistaminic, Analgesic & Antipyretic
Composition:
Each tablet contains:
paracetamol                                  500 mg
Caffeine Anhydrous                     30 mg
Pseudoephedrine Hcl                  30 mg
Chlorpheniramine maleate        3 mg
Properties:
Power cold & Flu is a unique combination of:
Paracetamol : Analgesic and antipyretic.
Caffeine anhydrous : CN.S and respiratory stimulant.Also caffeine enhances the activity of paracetamol.
Pseudoephedrine Hcl : Nasal decongestant and helps to decongest sinus openings and passages.
Chlorpheniramine maleate : Antihistaminic of short duration of action with less sedative effect than other antihistarninics.
Indications:
For the quick relief of symptoms associated with common cold and influenza such as: Aches, pains, headache, fever, sore throat, nasal congestion, runny nose and sneezing
Dosage:
For adults and children aged 12 and over: 1- 2 tablets 3 times daily.
Side effects:
Occasionally mild sedation or drowsiness. Palpitations rarely occur.
Contraindications:
– Hypersensitivity to any of the product's components.
– Pregnancy & nursing women.
– Children under 12 years of age.
Presentation:
Carton Box contains 1,2,3 strips each striplO tablets
Storage:
Store below 25°C.
Produced by:
Chemipharm Pharmaceutical Industries
6th October City – Egypt