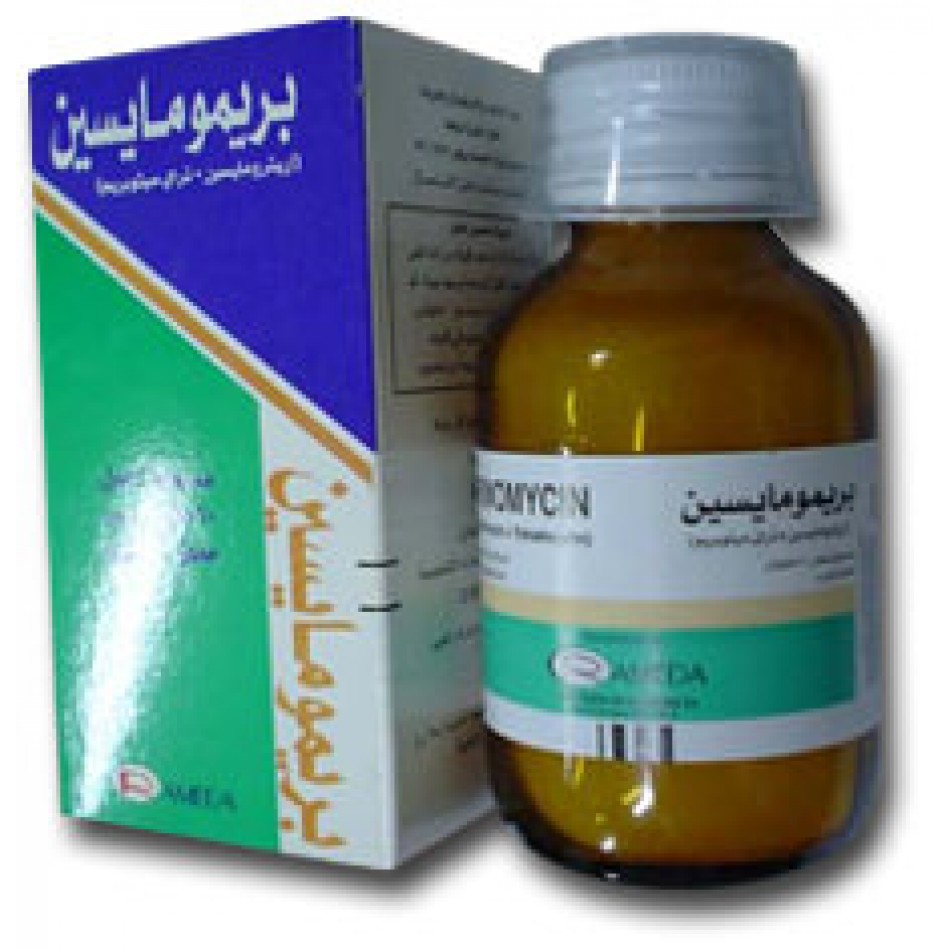 Primomycin Capsules & Suspension
(Erythromycin + Trimethoprim)
COMPOSITION:
CAPSULES Each capsule contains:
Erythromycin (as ethyl succinate)               400 mg
Trimethoprim                                                100rng
SUSPENSION Each teaspoonful (5ml) contains :
Erythromycin(as ethyl succinate )                200mg
Trimethoprim                                                  50mg
PROPERTIES and ACTIONS:
The rational combination of (Erythromycin + Trimetboprim) makes PRIMOMYCIN one of tbe most potent agents, which assures a broader potency against a wide ran(le of botb gram-positive and gram-negative microorganisms, beside a synetgistic effect against H. influenza and Chlamydia infection, togetber witb prevention of tbe emergence of resistance. Erythromycin being a macrolide antibiotic has its antimicrobial effect on the susceptible microorganisms due to its binding to their ribosomal subunits thereby suppressing protein synthesis. Trimetboprim, in the meantime, has its antibacterial action through blocking tbe formation of nucleic acids and proteins of the microorganisms. Its antibacterial spectrum is similar to tbat of sulfonamides, however trirnethoprim is 20:25 times more potent tban the sulfonamide.
INDICATIONS: PRIMOMYCIN :
is an effective agent for the treatment of:
– Respiratory tract infections as :Bronchitis, Bronchopneumonia, Pneumonia, and Interstitial alveolitis.
– Ear, Nose and Throat infections as : Pharyngitis, Tonsillitis, Otitis media, Mastoiditis, and Otitis externa.
– Urinary tract infections as : Urethritis, Nephritis, Pyelitis, Pyelonephritis, and Ureteritis.
– Venereal and Gynecological infections as : Syphilis, Prostatitis, Salpingitis, Parametritis, and Cervicitis.
– Rectal and Colonic infetions.
– PRIMOMYCIN is also used to eliminate carrier states of Corynebacterium diphtheriae.
SIDE EFFECTS:
Nausea, Vomiting or hypersensitivity reactionsmay occur occasionally in few patients.
DRUG INTERACTONS :
PRIMOMYClN : potentiates be effect of carbonazepin, corticostcloids, digoxin, warfarin and theophylline . Cercurent use of tlie followingarugs is not recommended because competitive inhibitions with erythromycin may occur: Lincomycin, clindamycin, clioramphenicol.
PRIMOMYCIN may intericte with the bactericidal effect of penicillin and increase the side effects of other folic acid antagonizers.
WARNINGS and PRECAUnONS:
caution should be taken in :
– Patients with pre-existing liver disease or jaundice.
– Hypersensitivity to either Erythromycin or trimethoprim.
– Patients with glucose-6-phosphate dehydrogenase deficiency.
– During the first three months of pregnancy or during lactation ..
DOSAGE:
According to the severity of infection.
Adults and ChUdren over 12 yea": 1-2 capsules every 8 hours for 5-10 days.
Children below 12 years : 30-50 mg/kg body weight is recommended as daily dose.
Children up to 5 kg body weight Y, teaspoonful twice daily
Children from 5-10 kg body weight one teaspoonful twice daily
Children from 15-25 kg body weight 2 teaspoonful twice daily
STORAGE:
Keep the capsules or Powder at room.temperature- (25°C) protected from light-end humidity
PRESENTATIONS:
PRlMOMYCIN Capsules: Box of 12 Capsules.
PRlMOMYCIN Powder for 60 ml oral suspension .. To be reconstituted immediatley before use.
METHOD OF RECONSTITUTION:
Shake the bottle to loosen the powder. Add some pure water.
Shake well. Then complete to 60 level.
Keep the reconstiMed suspension refrigeraled. Not 10 ha used after 14 days from reconstitution
Keep all medicaments out of reach of children
Manufactured by :
Tenth of Ramadan
For Phannaceutical Industries & Diagnostic Reagents (rameda)
6 th of October City A.R.E