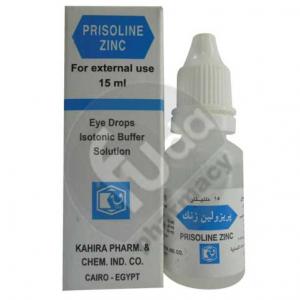 PRISOLlNE ZINC Eye Drops
Decongestant· Antiallergic – Astringent and Antiseptic
Composition:
Each lOO ml contains :
Naphazoline Hydrochloride                      50 mg
ChIorpheniramine Maleate                       50 mg
Zinc Sulphate                                                250 mg
In Isolonlc Buffered Solution.
Properties :
PRISOLINE ZINC Eye Drops has a vasoconstrictor, antihistamink. astringent and antiseptic actions. The vasoconstrictor action is due 10 Its conlenl or Napha.ollne Hydrochloride, the highly errtellve decongestanl, Ihal has a rapid and prolonged errecl. Chlorpheniramlne Maleate, present in PRISOLlNE ZINC, is a potenl antihistamine and itls of greal value in Irealmenl of allergic manifestations of Ihe eye, while Zinc Sulphate has an aslrlngenl and antlsepllc actions.
Indications:
– Acute and chronic conjunctivitis, partiCUlarly the angular type.
– Spring catarrh and allergic conjunctivitis.
– Trachoma
– Acute and chrooic blepharitis.
– Excessive lacrimation.
– Adjuvant In trratment of eye IDfections.
Side effects:
Uncommon, but may occur in some patients in tbe form of :
– Mild and transienl stinging.
– Rarely blurred vlsioD.
– Occasionally dlulnesa (wllh excessive dosage andlor prolonged use).
Contraindications :
– Hypersensitivity 10 any or lb. components.
– Narrow anale glaucoma.
Precautions :
Owlnllo some systemic absorplloD of lopically applied Naphazolin. Hydrochloride, PRISOLlNE ZINC should be used cautiously ID the presence or the rollowlng conditions:
– Hypertension.
– Cardiovascular disease.
– Diabetes mellilus.
– Hyperthyroidism.
Use in infants and children:
Not recommended.
Dosage:
1·2 drops In Ihe eye 1·4 limes dally or as directed by Ihe physician.
Caution:
To be used only under medical supervision.
Packing:
Plastic dropper bottles of 10 ml & IS ml
Storage:
Store al 25″ C
Produced by :
KAHIRA PHARM. & CHEM. INO. CO.
Cairo • Egypt