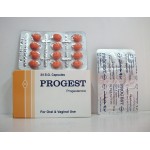 PROGEST
Soft Gelatin Capsules For Oral and Vaginal Use
For Menstrual Disorders and Endometrial Hyperplasia
Composition:
Each PROGEST S.G.Cap contains:
Progesterone (micronized) 100 mg
Properties :
progest s.g CaPS (for oral and vaginal use) contain progesterone. the naturallemale hormone with both progestational action and antiestrogenic effect. PROGEST
compensates lor progesterone deficiency when endogenous progesterone secretion is absent or rtduald as in cases of menstrual irre~larities associated with
dysovulation pre menstrual syndrome PMS and dysfunctional uterine bleeding progest is clinicly effective in the managment of irregular menstrual cycles secondary amenorrhea ,dysmenorrhea,menorrhagia and premenstrual tension progest is also used with an estrogen as hormone replacement therapy HRT in menopausal women 10 reduce the increased risk 01 estrogen-induced endometrial hyperplasia. PROGEST is highly beneficial in assisting pregnancy in cases of
habitual or threatened abortion and during in vitro fertilization (IVF) cycles. The presence of progesterone in micronized form with high bioavailabilily makes PROGEST S.G.Caps highly efficient (oral and vaginal) dosage forms alternative to progesterone injectable preparations with excellent patient compliance.
Pharmacokinetics:
Following administration of progest s.g caps orally or vaginally progesterone is rapidly absorbed from the site of administration peak plasma concentrations are achieved within 1-3 hours following oral administration and 2-6 hours following vaginal application the drug is 96-99% bound to plasma proteins and is extensively
metabolized in the Ifver and gut into conjugated metabolites that are excreted mainly in urine. Plasma half·~fe ranges from 19-95 mir'IJtes. Progesterone crosses the placenta and trace amooots appear in breast milk.
Indication. :
Oral:
– Treatment of secondary amenorrhea. dysmenorrhea, menorrhagia and other menstrual irregularities due to dysovulation.
– Management of Pre-Menstrual Syndrome (PMS). •
– Dysfunctional utenne bleedmg.
– breast pain (post-partum) or benign breast disorders.
– Pr8Y8ntion of eslrogen-induced endometrial hyperplasia in menopausal women receiving estrogen Hormone Replacement Therapy (HRT).
vaginal :
to help pregnancy as in cases of :
– Repeated abortion and threatened abortion.
– In vitro fertilization (lVF) cycles.
– Hypolerlility or primary or secondary sterility.
– As an alternative 10 the oral route in case of oral intolerability of the drug.
Dosage:
Oral :
– Treatment of progesterone insufflciency (secondary ameoorrhea, dysmenorrhea, menorrhagia, dysfunctional uterine bleeding), premenstrual syndrome (PMS), and
other menstrual irregularities due to dysovulation 2-3 capsules(200 mg – 300 mg), daily, taken as one capsule (100 mg) in the morning and 1-2 capsules (100 mg- ~OO
–  Prevention 01 endometrial hyperplasia: 2 capsules (200 mg) daily, taken as one capsule (100 mg) in the morning and one capsule (100 mg) at bedtime or 2 capsules
200 mg daily, taken once at bedtime for 14 days, sequentially with estrogen as Hormone Replacement Therapy (HRD per 28 day cyclt.
– To preventhabituat or repeated abortion: one capsule (100 mg) on day 13 and 14 of the cycle, then 2 capsules (200 mg) in single or 2 divided doses daily from day 15
to day 25 of the cycle. From day 26 of the cycle, and if pregnancy occurs, the dose can be increased 10 a maximOOl of 6 capsules (600 mill divided in 3 equal doses daily until day 60, and treatment can be continued@theendofthe 12th week 01 pregnancy (first trimester).
– ln threatened abortion: 2·4 capsules (200 mg – 400 mg) daily, in two divided doses until the end of the 12th week of pregnancy (first trimester).
– To assist luteal phase in hypofertility or primary or secondary sterility: 2 – 3 capsules (200 mg – 300 mg) in two divided doses, daily lor 10 days starting on day 17 01 the cycle. When no menstruation OCCII'S, or pre!Jlancy is diagx>sed, treatment should be restarted rapidly and continued IXltil the end of the 12th week 01 pregnancy (first lrimester).
Contraindicltion.;
Hypersensitivity to progesterone, undiagnosed vaginal bleeding, missed or incomplete abortion, breast malignancies or IumOfs (known or suspected), and fiver dys- function.
Precaution.:
use cautiously in patients with cardiovascular or renal impairment diabetes mellitus asthma epilepsy and migraine or other conditions which may be aggravated by fluid retention progesterone should also be used with care in women with history of depression and those susceptible to throwboembolism
Side effects :
progest s.g CaPS are safe and well-tolerated. GI disturbances, changes in appetite or weight (oral), fluid retention, melasma, lI1icaria, fatigue, ctowsiness or mental depression and alteration in S8T!Jfllipid profile may occur. When some in nolence or vertigo occurs with oral administration, it is advisable to minimize the oral dose to 200 mg daily to be taken at -ls a product wtMdl affectsyc» health and bedtime or the drug should be given by the vaginal route ~s consumption contrary to ilstroctions is
Pregnancy and lactltion:
dangerous for you.
Reported studies have not ruled out the possibility 01 harm; therelore, progesterone-containing preparations should • Follow strictly the doctor's prescriptioo, be used dtKing the first trimester of pregnancy under medical supervision. No reports indicate any adverse effect on !he method of use and the instroctiore 01 suckling infants due to the use of progesterone-containing preparations during lactation. !he phannacist who sold the me<icament.
Packing:
abox containing 24 progest s.g caps
Storage :
keep at temperature 15-30 c away from moisture
keep out of the reach of children
produced by :
pharco pharmaceuticals