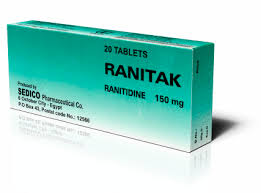 Ranitak film coated
Tablets 150 mg, 300 mg
Composition :
Each film coated tablet of Ranitak 150 mg contains:
Ranitidine 150 mg.
Each film coated tablet of Ranitak 300 mg contains:
Ranitidine 300 mg.
( as Ranitidine Hydrochloride)
Properties :
Ranitak is a histamine H2 receptor antagonist that inhibits gastric acid secretion and reduces pepsin output by competitive inhibition of the action of histamine at the histamine H2 receptor located in the parietal cells in the upper portion of the stomach. Ranitak reduces the pain and hastens the healing of duodenal and gastric ulcer. Ranitak is rapidly absorbed from the G.I.T. with peak plasma concentration occurring about 2 hours after oral administration. Ranitak has a long duration of action and so a single 150 mg dose suppresses gastric acid secretion for twelve hours. A small proportion of Ranitak is metabolised in the liver but most part is excreted unchanged in the urine. Ranitak crosses the placental barrier and is excreted in the milk, but does not readily cross the blood brain barrier .
Indications and dosage :
– Duodenal and benign gastric ulcers:
Treatment: Oral 150 mg twice daily or 300 at bedtime for at least 4-6 weeks.
Maintenance: Oral 150 mg at bedtime for more than year if required.
– Gastro – oesophageal reflux:
Treatment: Oral 150 mg twice daily for not more than 6 weeks.
– Gastric hypersecretory conditions:( e.g. Zollinger- Ellison syndrome, systemic mastocytosis, multiple endocrine adenomas).
Treatment: Oral 150 mg twice three times daily and may be increased up to 6 g daily in severe cases.
-Upper gastrointestinal stress-induced ulceration and bleeding:
Treatment and Prophylaxis: Oral 150 mg twice daily, or parenteral therapy may be used.
– Aspiration syndrome:
Prophylaxis: Oral 150 mg may be given 2 hours before the induction of anaesthesia or at the start of labour to reduce the danger of aspiration of acidic gastric contents and may be repeated
at intervals of 6 hours if required.
Side effects / Adverse effects :
Headache, rare hypers.ensitivi\jIJeactions, bradycardia, dizziness, skin rash, tranSienLreyerSible changes in liver function tests may occur Reversible leucopaenia and thrombocytopaenia have been rarely reported. Unlike cimetidine, Ranitidine has little or no anti-androgenic effect and incidence of gynaecomastia and impotence in patients treated with higher doses of Ranitidine has been reported not to differ from that encountered in the general population.
Precautions :
– The usual dosage should be reduced for patients with liver impairment.
– It is Qml.erally considered that drug interaction is far less in comparison to cimetidine.
– Gastric malignancy must be excluded before therapy with Ranitak.
– Ranitak should only be used during pregnancy and nursing mothers if clearly needed.
Storage :
– Keep at tem erature not exceedin 30·C.& away from moisture.
– Keep out of reach of children.
Presentation :
Ranitak 150 mg : Box of 20 tablets or 1000 tablets.
Ranitak 300 mg : Box of 20 tablets.
Produced by :
SEDICO Pharmaceutical Co.
6 October City, Egypt