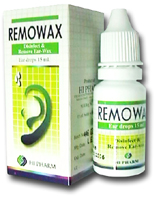 REMOWAX
Disinfect & Remove Ear-Wax
Composition :
Carbamide peroxide in glycerol.           5%
Properties :
Remowax is awell know antiseptic and disinfectant of the ear
canal. It consists of urea ancrnyarogefi peroxide in eqnimolecular
proportion dissolved in glycerol. Drops foam on contact with
earwax due to the release of oxygen, that acts as a strong antiseptic
and also softens and separates cerumen from the skin of the
external auditory canal 10 facilitata removal of wax.
Indications :
removal of ceruem facilitate removal of excessive and impact cerumen . remowax is effective to soften , loosen and remove excessive ear wax . remowax used as directed cleanses the ear with sustained microfoam
Precautions :
– As with other otic drops it should not-be use it tympanic membrane .
– Avoid contact with eyes.
Dosage :
Unless otherwise prescribed by the physician, the usual dose is:
2-3 drops in the external ear canal 3 times/day.
instill remowax three times daily for 2-3 days
Package :
dropper bottles of 15 ml inside carton box
How supplied :
15 ml bottle with a dropper.
Storage :
Store at room temperauture, protect from heat and light.
Keep all medicaments out of reach of children
produced by :
HI PHARM For manufactured pharmaceuticals
Industrial zone, El Obour city, Cairo, Egypt.