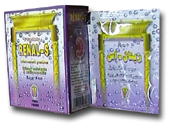 Renal-s effervescent granules urinary antiseptic and antispasmodic ( Sugar Free)
COMPOSITION:
Each 5g sachet contains:
Hexamine                            0.50 g
Khellin                                  1.83 mg
Piperazine citrate            0.19 g
Effervescent base to        5.00 g
PROPERTIES:
RENAL-S is a complementary combination of three active ingredients which ensures superior efficacy in the treat­ ment of urinary tract infections and enhances urinary excretion of uric acid. Hexamine is a urinary tract antiseptic, slowly hydrolyzed to formaldehyde which possesses anti­ bacterial activity against most common urinary tract pathogens. Khellin, a natural ingredient acts directly as a relaxant of the urinary tract smooth muscles thus relieving colics usually associatedwith urinary disorders. Piperazine adds to the benefits of RENAL-S by dissolving uric acid and urate crystals thus preventing their deposition in the urinary tract, ensuring the effectiveness of RENAL-S in treatment of urate calculi.
INDICATIONS:
1-Urinary tract infections: pyelitis, cystitis, urethritis and pyelonephritis.
2-Adjuvant in case of recurrent urate calculi.
3-Spasms of urinary tract.
4-Discomfort caused by hypermotiiity resulting from inflammation due to urinary tract infections.
DOSAGE:
The contents of one or two sachets are dissolved in half a glass of water and taken three times daily or as directed by the physician.
SIDE EFFECTS:
Rarely occurring nausea and vomiting .
CONTRAINDICATIONS:
Hypersensitivity to any of the components, impairment of renal or hepatic function.
INTERACTIONS:
Some of the rarely used sulphonamides, e.g.: sulphamethi­ zole and sulphathiazole, may form insoluble precipitate with the liberated formaldehyde in the urine, so concomitant use of RENAL-S is not recommended.
PRECAUTIONS:
It is recommended not to exceed the dose to prevent the occurrence of the nervous system side effects.
PACKING:
A box containing 6, 12 or 60 sachets.
STORAGE:
Keep at a temperature (1 &-30 0c), away from moisture.
Keep out of reach of children.
PRODUCED BY :
PHARAONIA PHARMACEUTICAlS
New Borg El-Arab City Alexandria, A. R. E.