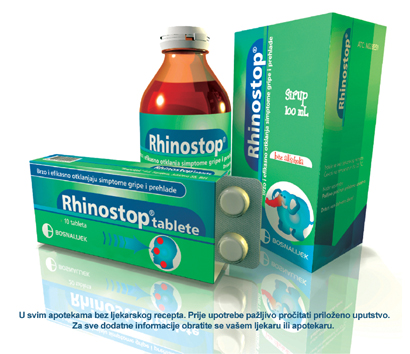 Rhinostop Oral Drops
For the Relief of Nasal Congestion
Free from Sugar and Dyes
Composition :
Each 1 ml contains:
Pseudoephedrine hydrochloride           25mg
Carbinoxamine maleate                         2mg
Properties :
–  Pseudoephedrlrie hydtochlorlde is an oral sympamoimetic which exerts a vasoconstrictor effect on the blood vessels of the nasal mucosa when they are dilated as a result of inflammation.
– Carbinoxamine maleate is an antihistaminic which reinforces the decongestant activity of pseudoephedrine, and blocks the pathogenic mechanism of allergic rhinitis.
– Rhinostop reduces swelling of membranes, relieves congestion, stops excessive secretion and consequently, decreases the risk of infection of the paranasal sinuses.
– Rhinostop Oral Drops is a systemic decongestant, which unlike nasal solutions or sprays, its effect i~ not confined to the nasal mucosa.
– Rhinostop acts on the upper respiratory tract and does not cause local irritation or rebound congestion.
Indications :
Relief of nasal congestion, runny nose, sneezing, itching 0f nose or throat, and itchy watery eyes due to common cold, hay fever, or other upper respiratory allergies .
Contraindications :
Hypersensitivity to any component of the preparation gastrointestinal or genitourinary obstruction, narrow angle glaucoma and severe hypertension.
Adverse reactions :
As other sympathomimetics and antihistaminics, this medication might causes mild undesirable symptoms such as skin rashes, drowsiness, drY mouth, blurred vision, tachycardia.
Precautions :
– Other medications containing sympathomimetic agents should not be taken simultaneously with Rhinostop.
– Caution should be taken with patients suffering from diabetes mellitus or hyperthyroidism.
– If symptoms do not improve within 7 days or are accompanied by fever, consult a doctor.
Dosage :
* Do not use for children less than six years old.
Children: One full calibrated dropper every 4 – 6 hours 'oy mouth.
* Can be added to juices.
How supplied :
15 ml bottle with a calibrated dropper.
Storage :
* Store at room temperature.
* Protect from light.
Product of :
Medical Union Pharmaceuticals,
Abu-Sultan, Ismaillia, Egypt.