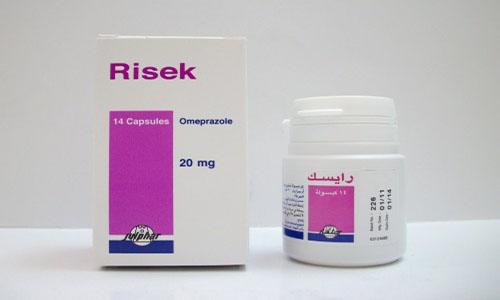 Risek
Proton Pump Inhibitor
Capsules of enteric-coated pellets
Composition :
Each capsule contains:
Active ingredient:
Risek 10mg: Omeprazole 10mg
Risek 2Omg: Omeprazole 20mg
Risek 40mg: Omeprazole 40mg
Excipients : Sucrose, starch, mannitol, cross linked starch, sodium lauryl sulfate, hydroxypropyl cellulose, talc, methacrylic acid copolymer, HPMC phthalate, and gelatin.
Properties :
Risek represents a new trend in the treatment of peptic ulcer and allied conditions whereby the final step of gastric acid secretion is inhibited irrespective of the stimulus. Risek acts specifically by inhibiting the H'/K' ATPase enzyme system (proton pump) at the secretory surface of the gastric parietal cells, blocking thereby the final transport of hydrogen ions into the gastric lumen, and thus inhibiting effectively both basal and stimulated acid secretion.
Risek has also antimicrobial activity against Helicobacter pylori, by selective inhibition of H. pylori urease, which is necessary fO( gastric colonization. Risek has no effect on acetylcholine or histamine receptors. Risek is rapidly absorbed following oral administration and its absorption is not affected by food, but it is dose-dependent. Omeprazole, the active ingredient of Risek, is acid-labile; therefore, Rlsek capsules have been specially formulated in an attempt to improve bioavailability from the gastraintestinal tract.Bioavailability of Risek may be increased in elderty patients and in patients with impaired hepatic function, but is not markedly affected in patients with renal impairment. Following absorption, Risek is distributed in tissues, particularly gastric parietal cells. It is almost completely metabolised in the liver, primarily by cytochrome P450 enzyme system. It has a rapid onset of action (within one hour) and a rapid
elimination, mostly in the urine. Although the elimination half-life from plasma is short, being reported to be about 0.5 – 3 hours, its duration of action with regard to inhibition of acid secretion is much longer allowing it to be used in a once-daily dosing. Rlsek is highly bound (about 95%) to plasma proteins.
Indications :
Risek is indicated for:
– Peptic ulcer: short and long term treatment of active benign gastric and active " duodenal ulcers, including peptic ulcers associated with the use of non-steroidal anti-inflammatory drugs (NSAID) as well as with Helicobacter pylori infection.
– Gastro-oesophageal reflux disease: short and long term treatment of severe erosive oesophagitis associated with gastro-oesophageal reflux disease, as well as management of acid-related dyspepsia (symptomatic gastro-oesophageal reflux disease).                                – Zollinger Ellison syndrome: management of pathologic gastric hypersecretion associated wilh Zollinger-Ellison syndrome (including cases resistant to other treatment).
– Acid aspiration: prophylaxis of acid aspiration during general anaesthesia (through gastric acid reduction).
Dosage :
Risek capsules should be taken immediately before meals preferably in the morning and swallowed whole with liquid without crushing. breaking. or chewing. For those who have difficulty in swallowing. the capsules can be opened and intact granules within can be sprinkled on a tablespoon or mixed with fruit juice or yoghurt and swallowed immediately without chewing.
– Benign gastric and duodenal ulcers :
Risek 20mg once daily for 8 weeks in gastric ulceration or 4 weeks in
duodenal ulceration. Maintenance dose for prevention of relapse in patients with peptic ulcer: Risek 10mg once daily. increased to Risek 20mg once daily as needed. has been used. Severe or recurrent cases: Risek 40mg once daily. Maintenance dose for recurrent ulcer: Risek 20mg once daily .
– NSAID-assoclated duodenal or gastric ulcer and gastroduodenal erosions Risek : 20 – 40mg once daily for 4 weeks. depending on whether the NSAID is continued or not. A further 4 weeks could follow. if needed. Prophylaxis in patients with a history of NSAID-associated duodenal or gastric ulcers. gastroduodenal lesions. or dyspeptic symptoms who require continued NSAID treatment: In a clinical study. Risek 10mg once daily has been used
successfully for the prevention of relapse in susceptible patients.
– Peptic ulcer associated with Helicobacter pylori :
*  H. pylori eradication phase: triple therapy regimens of Risek 20mg. plus clarithromycin 500mg. piu.:; either amoxicil/in l000mg or metronidazole 400mg; all three medications are to be given twice daily for one week.
* Ulcer healing phase: Risek 20 – 40mg once daily; treatment may need to be continued for 4 – 8 weeks to promote ulcer healing (particularly afier ulcer haemorrhage or perforation) – See further dosage recommendations for benign gastric and duodenal ulcers.
– Gastro-oesophageal reflux disease :
Risek 20mg once daily for 4 weeks. followed by a further 4 – 8 weeks if not fully healed. Cases refractory to other treatment: Rlsek 40mg once daily for 8 weeks. Long-term management of acid reflux disease in patients with healed reflux desophagitis: Risek 10mg daily increasing to Risek 20mg once daily if symptoms return.
Children over 2 years with severe ulcerating reflux oesophagitis: 0.7 l.4 mg/kg daily for 4 – 12 weeks; maximum daily dose should not exceed 40mg.
– Acid-related dyspepsia (symptomatic gastro-oesophageal reflux disease) : Risek 10 – 20mg once daily for 2 – 4 weeks according to the response. Zollinger-Ellison syndrome Initially Risek 60mg once daily; usual range Risek 20 – 120mg daily. Doses above 80mg should be given in 2 divided doses.
– Prophylaxis of acid aspiration during general anaesthesia :
Rlsek 40mg on the preceding evening then Risek 40mg 2 – 6 hours before surgery.
– If you miss a dose :
* Take the missed dose as soon as you remember.
* If it is almost time for your next dose, wait until then to take the medicine and skip the missed dose.
* Do not take two doses at one time.
Contraindications :
It is contraindicated in individuals with known hypersensitivity to omeprazole or any of its ingredients. Like other benzimidazole derivatives, omeprazole is better to be avoided during pregnancy and lactation until further research studies are available.
Precautions :
As general practice in treating gastric ulcer, the possibility of gastric malignancy should be excluded prior to the initiation of therapy with omeprazole. Omeprazole may mask symptoms of gastric cancer; particular care is required in-those whose symptoms change and in those over 45 years of age. Omeprazole should be used wtth caution in patients having hepatic impairment due to increased half-life in such patients; the prescribed daily dose should not exceed 2Omg.
No information is available on the relationship of age to the effect of omeprazole. However, a minimal decrease in rate of elimination and consequently increased bioavailabiltty are more likely to occur in geriatric patients taking omeprazole.
Side Effects :
Omeprazole is generally well-tolerated. Only transient and reversible side effects have been reported. The following side effects, listed by body system, have been reported with the use of omeprazole, which is more or less similar to that associated with other proton pump inhibttors:
– Nervous system: headache, dizziness, vertigo, blurred vision, taste disturbances, insomnia, somnolence, depression, and paraesthesia. Reversible confusionai states. agttation, and hallucinations have been reported in severely ill patients.
– Gastrointestinal tract: dry mouth, stomatitis, nausea, vomiting, flatulence, abdominal pain, diarrhoea, and constipation.
Like all other proton pump inhibttors, omeprazole decreases gastric acidtty and may increase the risk of gastrointestinal infections.
– Liver: transient disturbances in liver enzymes, hepatic dysfunction, or encephalopathy in patients with severe liver disease.
– Kidney: interstitial nephritis. Musculoskeletal: malaise and muscle and joint pain.
– Skin: in isolated cases pruritus, photosensitivity, alopecia, bullous eruption, Stevens-Johnson syndrome, toxic epidermal necrolysis, and anaphylaxis.
– Hypersensitivity reactions: rash, urticaria, angioedema, and bronchospasm.
– Haematologlcal: agranulocytosis, leucopenia, pancytopenia, and
thrombocytopenia.
– Others: fever, sweating, hyponatraemia, peripheral oedema, gynaecomastia, and rarely impotence.
Overdosage :
Single oral doses of up to 400mg of omeprazole have not resulted in any severe syrrptoms, However, some clinical effects have been reported upon accidental ingestion of very high doses which may include blurred vision, oonfusion, diaphoresis, drowsiness, dryness of mouth, flushing, headache, nausea, and tachycardia.
Treatment: Since there is no specific antidote for omeprazole, treatment is essentially symptomatic. Due to extensive protein binding, haemodialysis does not remove an appreciable fraction of the total quantity of omeprazole or its rnetabofites.
Drug Interactions :
Omeprazole may cause a decrease in hepatic metabolism of warfarin, diazepam, phenytoin, and possibly other drugs metabolised via cytochrome P450 enzyme system. Thus, upon concurrent administration, omeprazole may result in delayed elimination, increased blood concentrations, and enhanced effects of these medications. Monitoring of blood concentrations, or prothrombin time for warfarin, is recommended as a guide of dosage since dosage adjustment of these medications may be necessary during and after omeprazole therapy. Absorption of ketoconazole and possibly itraconazole may be reouced upon concurrent administration of omeprazole. Plasma concentration of digoxin
and tacrolimus may possibly be increased upon concomitant administration of omeprazole.
Presentations :
Risek 10mg: Packs of 14 capsules.
Risek 20mg: Packs of 7, 14, or 28 capsules.
Risek 40mg: Packs of 14 capsules.
Store at a temperature not exceeding 25″C, in a dry place, protected from Kght.
THIS IS A MEDICAMENT :
– Medicament is a product which affects your health, and its consumption contrary 10 instructions is dangerous for you.
– Follow strictly the doctor's prescription. the method of use and the instructions of the pharmacist who $Ott the medicament.
– The doctor and the pharmacist are experts in medicines, their benefits and risks.
– Do not by yourself interrupt the period of treatment prescribed for you.
– Do not repeat the same prescription without consulting your doctor.
– Keep all medicaments out of the reach of children.
Produced by :
Julphar
Gulf Pharmaceutical Industries.
Ras AI Khaimah, U.A.E.