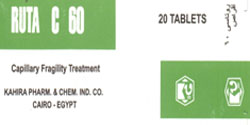 RUTA C60




TABLETS
COMPOSITION:
Each tablet contains:
Rutin                                          60mg
Ascorbic Acid                        160mg
ACTION:
Rutin is concerned with the maintenance of the normal conditions in the
wall of the small blood vessels and capillaries. This is followed by increase in the capillary resistance. It potentiates the action of Ascorbic Acid in this respect. Ruta C 60 is therefore a very active combination of two essential factors acting synergetically for the treatment of capillary fragility and prevention of accidents which may entail.
INDICATIONS:
Increased capillary fragility and decreased capillary resistance as in arteriosclerotic hypertension to guard against cerebral' haemorrhage
other capillary haemorrhagic complications haematuria diabetic retintis.
Increased capillary permeability as in allergic diseases and petechial
haemorrhage.
DOSAGE :
One tablet 3 times daily or more as directed by the physician
PACKlNG :
Boxes of 20 tablets ( 2 strips X 10 tablets l.
Boxes of 1000 lab lets ( 100 strips X 10 tablets).
product :
KAHIRA PHARMACEUTiCALS & CHEMICAL INDUSTRIES CO.
CAIRO· EGYPT